It costs 9 cents a minute to call Ghana from the U.S. but 69 cents a minute to call the U.S. from Ghana. Why is that? Don't they use the same phone lines, satellites, etc.????
It's almost Tuesday and I leave on Saturday and I'm getting this growing feeling that there are a ton of things I've forgotten to do. Really, I don't think that's true ... but this is one of those few trips that, well, if I don't get it done before I leave, it stays undone until I get back.
Hope arrived today. Even though it's been three years since she lived with us, it's strangely familiar having her around. I'm glad she'll be here to keep Robin and the boys company while I'm gone.
Obviously, I don't have a lot to say, so I'll just head to bed. Peace, everyone.
|
Mike
at
5/31/2004 11:26:00 PM
Some of the best days make some of the least interesting journal entries -- riding bikes with the family to Bread Co., playing computer games and basement soccer with Schroedter, going to a T-ball game, playing with the boys in the park, a great dinner and hanging out time with the Gibsons, home to rocking Hayden to sleep and bedtime stories and prayers with Schroedter.
I remember the sermon Hays Rockwell preached at his installation as Bishop of Missouri a decade or so ago. He had just flown back from Detroit where he had buried his mother. He talked of "the sacrament of the present moment" ... how aware he had been of it in those last days and hours with his mother. How precious each moment is ... and not just precious but revealing of and brimming with God.
Today was a day like that. Maybe it's that a week from now, I'll be on a plane over the Atlantic and I won't see my wife for a month and my kids for six weeks. Whatever it is, I spent a wonderful day very aware of the blessings God has given me in these three amazing people -- Robin, Schroedter and Hayden -- and also in friends like the Gibsons.
Jean Nyere (Rob Slevin's grandmother) died this morning. She lived a good, long life and died having, as Rob said, "done everything on her to-do list" and having had a chance to say goodbye to her family. You can't ask for a much better death than that. It's grace.
And yet, it's not that it's good and so obviously grace-filled like my day today or even Jean's peaceful death that makes it sacramental. Horrible, terrible things, excruciating moments are sacramental, too. Brimming with God's love and passion for us as God shares in the pain with us. It's not pollyanna or just good white, middle-class-and-up American theology to talk about moments as sacramental. It's not just what makes the good moments richer, it's what makes the terrible ones redeemable.
Each moment is a sacrament. And I'm thankful for days like today when it's pretty obvious. I hope they help me remember that it's no less true on those days when it is less obvious. That God is there both times ... and all the times in between.
|
Mike
at
5/29/2004 09:49:00 PM
Tonight is my last night of sleep without anti-malaria medication in my system. I have weird enough dreams regularly already ... can't wait to see what this stuff does to me.
Spent a wonderful day at the zoo with the boys ... a celebration of Schroedter's first day of summer vacation. He woke up at 7 am and, still lying in bed, started shouting "WOOOOOOOOOO Summer!!!!!" over and over again. (This after two nights ago, Hayden stayed up until 11 pm lying in his crib shouting "ALLLLLL RIGHHHHHHHT!!!!!" over and over again). Too funny.
I've IMd with Mackinnon a couple times today. She's getting really excited about going, too. She arrives three days after I do, so I'll be able to meet her there and already have my feet on the ground somewhat.
Prayer list -- Jean Nyere (ECM alum Rob Slevin's grandmother), who is quite ill and probably nearing death. Also Jolly Stewart (Cecily's mom), who just had some minor surgery.
|
Mike
at
5/28/2004 11:20:00 PM
I've discovered there is a difference between a converter and an adapter -- and, to get my computer, etc., to work in Ghana I need both.
An adapter "adapts" the plug with the plug design that will fit into a wall in Accra. A converter converts the flow of electricity that comes out of that outlet to the level that will allow the computer or whatever to function properly without blowing up.
The adapter allows you to access the electrical system. The converter allows you to use it without damaging yourself.
Seems to me, that's a pretty cool image for travel. When we're traveling, we have to adapt to access the culture. For one thing, if I stay on St. Louis time, my sleep schedule will seriously cut into my ability to hang out with people. If I eat nothing but power bars, I'll never get to experience local food. You get the idea.
But we also need to have ways to participate in the culture without damaging ourselves. I'm not just talking about anti-malarial medication, but being able to internally translate the experience into images and languages that allow us to process it.
But it also seems to me that this analogy breaks down pretty quickly. The converter is essentially a barrier -- a membrane through which some, but not all, of the energy is allowed to pass through. SOmetimes that's good and necessary, but there are other times when we travel -- whether it is around the world or into a conversation with someone unlike us -- that we need to take the risk of plugging in without using the converter. To take the risk that something can happen to us that can't happen to pieces of electronics -- that WE could be converted, changed in some way, significant or not.
I'm going to Ghana with a bag full of adapters and converters -- both for my computer and camcorder and for me. And I'm beginning to wonder if the biggest challenge isn't going to be figuring out when to use them and when to toss them away.
|
Mike
at
5/27/2004 03:59:00 PM
I was thinking today that this graduation was significant in a lot of ways, but one of them is that the class of 2004 is the last class to remember ECM before Rockwell House.
Their freshman year was when we were involved in buying, rezoning and renovating the house. The next year's freshman class -- starting with Rory showing up at an early workday -- has never known an ECM without a home.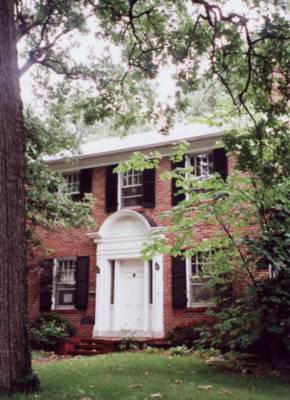 I think we lose something there ... something we need to try to remember. First off, we must never take our home for granted. There are plenty of people and ministries that don't have homes. A home is a gift and we need to take care of it and be thankful for it. But the other thing is what we lost when we got the house.
We got a sense of permanance when we moved into Rockwell House -- and that's a very good thing. But we also now have to spend a certain amount of our energy maintaining it and raising money to pay it off and caring for it in other ways. We do this because it is our sacred job to be good stewards of what God has given us ... but I hope we will never lose that sense of freedom of mission that we most definitely had before Rockwell House ever was.
This house is a gift if it encourages ministry -- not if it becomes an albatross around our necks that inhibits ministry. Rockwell House is a gift if we take the challenge of loving caring for a space that is at once individual space, community space and sacred space be a doorway into caring for our own lives -- which are at once individual space, community space and sacred space.
One of my hopes for the years ahead is that we can do some hard and prayerful and joyful thinking about what Rockwell House means to us, how we are being called to use it and how we can best care for it. One of my hopes for every year is that we never get bogged down by it, and that having it as our home encourages us to be MORE wildly creative with our life and ministry, not less.;

|
Mike
at
5/26/2004 04:30:00 PM
One of the things that bothers me is when I go to a liturgy -- particularly a Eucharist -- and they have eliminated the confession of sin. It's not a quirky liturgical idiosyncracy. I think we need the confession in our liturgy -- perhaps now more than ever.
When I talk to people about why they have left the confession out, what I get most often is some variation on the theme of "it's a downer, we don't want to beat people up, we want this to be uplifting." First off, I think that shows no concept of what confession is about. It's not about beating ourselves up, it's about being honest about the state of our lives, honest about where those fall short of God's will, honest about our relative powerlessness to change our lives on our own and need of God's help, and honest about our desire to make relationship right with God and each other and to receive God's reconciling love.
Opportunities for confession, repentance and absolution are what enable us to continue to grow in our relationships with God and each other. Not to confess is stubbornly to live in denial not only of our errors but of our need of God and each other to get it right.
Confession can be hard -- really hard. It's never fun to take a long, honest look in the mirror ... especially when you know already that what you're going to see has some serious unsightly blemishes. But there's a reason we put the confession before the Eucharist ... unless we confess and repent and allow God to mend the breach between us, we cannot receive the overpowering love of Christ in his body and blood. We can't do it because a refusal to confess proclaims our own lordship over our lives, not his over us.
I see this in my own life and in the circles I travel in, but also in society. Confession is seen as weakness. You look at the 9/11 hearings -- there is so much buck-passing that it makes you dizzy. Nobody takes responsibility for things anymore. As I've watched presidential candidates come through Missouri, the one thing they all have in common is trying to portray themselves as Harry Truman, thinking that will ingratiate themselves to us (and, frankly, thinking that we are such idiots that we can't tell the difference.). Well, Harry Truman is most famous for that plate on his desk that said "The Buck Stops Here." And we have candidates from each party who say they can't even REMEMBER the last mistake they made much less confess it.
All this comes up in my mind because of something I hope you will go read and sign at the
Episcopalians for Global Reconciliation (E4GR)
website.
It's an apology to the people of Iraq, and it reads:
We as Christians and/or Americans want to tell the people of Iraq and others that we are shocked and deeply ashamed to hear of the torture and humiliation inflicted on Iraqi and other prisoners in the custody of our government.

The photos make us horrified and very sad.
We are genuinely and profoundly sorry for what happened to you.
We apologize to victims of this abuse and their families, and to all the people of Iraq.
We too are mothers, sisters, brothers, fathers, and people who pray, like you.
This should NEVER have happened in our name.
We pledge to work together so this never happens again.
To the prisoners, we say: we cannot erase what happened to you but we will work so you receive a formal symbol of regret, as well as this apology.

May God have mercy on all of us.
It was written for E4GR by the Rev. Sabina Alkire, an amazing priest/economist and warrior for global justice. Now, you might say "I didn't have anything to do with the prisoner abuse! I'm not in favor of it! Why should I apologize? The people who did it should be the ones to apologize!"
Well, the people who did it, and the people who are responsible for it ... all the way up to the president ... absolutely should apologize. Frankly, I think the buck SHOULD stop at President Bush's desk ... but there's more than that.
The buck also stops with us.
We are citizens of this country. We elect our leaders -- for good or ill. Most of us benefit from the incredible wealth of this country and the privilege accorded by being Americans. When things go well, many of us reap the benefits.
We need to confess. We need to repent ... to commit to trying to do better in electing and holding our leaders accountable and in removing the spirit of the abuse from our own lives. We need to reach out to our sisters and brothers in the Arab world and acknowledge the relationship we have broken with each other. We need to admit that these are indeed "sins committed on our behalf."
Apology and confession are not signs of weakness -- they are signs of strength. They are signs of a belief in the power of forgiveness and the power of the love of a God who stopped and stops at nothing to reach through our brokenness to show her love for us.
Read the apology -- and check out the rest of the stuff on the website. Take some time to think and pray about it. If you agree with me that the buck stops with us, too, and that confession is not only appropriate and necessary but life-giving, I hope you will sign it.
I sign off most of my correspondence with "Christ's peace." I started doing it after Julia died because it was how she signed everything, but it's not a memorial to her. I sign correspondence that way because Christ's peace is what I hope for in all the relationships of my life -- it's a peace that is borne out of honest relationship and love that heals brokenness. But to heal, we first have to acknowledge it.
Christ's peace,
Mike+
|
Mike
at
5/24/2004 10:41:00 AM
Whoa! A new look. Got really tired of the blog template I'd been using since I started this, so I found something I liked better with a little more flexibility. I tried doing one that was a little flashier, but I am html-challenged enough that I couldn't make it work. At least I can do images now!
Two weeks from now, I'll be in an airplane headed to London on my way to Accra. I've got lots of little things to do between now and then ... buy protein bars, write down instructions so Robin can do the electronic billpay, finish staining the deck, settle some stuff with our annoying health insurance company... all of which reminds me of one of the big things that is different about this trip. With every other trip I've taken, I've been reachable. Even if I didn't want to, I could be reached and I could help people with stuff ... or exercise control over stuff.
But this trip is different. Part of the giving up control for me is not just going somewhere that is completely foreign to me but totally leaving behind where I am coming from. I'll be reachable when I'm in Accra ... but lots of times, I won't. And life will go on without me just fine, thank you.
Take a moment to click on the site for
The One Campaign
that's now on the right-hand side of the screen. While you're at it, check out the new
Episcopalians for Global Reconciliation
website and sign up on that, too. Yesterday at graduation, Tom Friedman exhorted the graduates to have the creative imagination that can change the world. Check out those two websites and imagine what is possible.
Off to bed.
|
Mike
at
5/23/2004 01:20:00 AM
Exciting ... my blog now has photo technology -- which will come in very handy when I am in Ghana to really share the experience.
I'm home now after spending most of 3 days with my clergy colleague group. It's nine of us, all between 33 and 40, all clergy, all male, some gay, some straight, some partnered, some single, and all in different types of ministry. We have some parish rectors, an ex-monk, a doctor-priest, someone who works for Church Pension Group, an interim pastor and, of course, a campus minister. Most of us have known each other for years and we've committed to meeting probably twice a year but at least once a year for ... well ... the rest of our lives.
It's an amazing group ... a real gift of a community where we can, even for a short time, be completely uncensored. Confidentiality is absolute and we also don't doubt our love for one another. I think many, if not most of the problems that clergy run into are because of isolation -- both within their own community and in the wider church. Just knowing I have the prayers and support of this group of colleagues -- and that they will hold me accountable as well as having my back -- gives me more strength than I can express.
The other added bonus is that, with the notable exception of me, who cannot make pasta without committing culinary malpractice, every other person in this group is a really good cook and a couple are wine experts -- so we feast like you would not believe.
So I come back from this gathering to graduation ... and such a big graduation because we are saying goodbye to the largest graduating class ECM has ever had. And it makes me realize how important our alumni network is.
Being Christ's body is something that transcends time and space. We don't stop being connected with each other when we no longer live in the same city or go to the same schools. The bonds God forges among us are much too strong for that.
Graduation is wonderful because everyone is graduating to something. What they are leaving behind is so they can go out and grow more and do more. And there must be leaving behind. But my hope is that, maybe even just in small ways, we can stay together in prayer and in community. That we can help each other, have each others' backs still, and maybe even hold each other accountable when we need it.
We've had an alumni network for awhile. It's pretty much consisted of a yahoogruop that gets used occasionally. And maybe that's all it will continue to be. But I've asked Nicole Walters to be our alumni point person to explore with alumni what this piece of Christ's body could become and what they would like it to become.
Pray for our graduates and their families. It's a great time, but a tough time, too. I give thanks for every minute I've spent with them (yes, EVERY minute!). And maybe, God willing, we can look forward to many more.
|
Mike
at
5/19/2004 10:57:00 PM
The family at the Botanical Gardens
|
Mike
at
5/19/2004 10:56:00 PM
Two big events in our larger family today. At the Cathedral, Kirsten Hanson will be received into the Episcopal Church. Reception or confirmation is a big thing ... because even though Kirsten has been such a big part of our community these past four years and her committment to us has been evident, taking vows (as Robin would say "in front of God and everybody") is much more than the wonderful commitment to this group of people in St. Louis ... it's a commitment to a way of life and to the Body of Christ. And it is something to be celebrated. We have always been sister and brother by virtue of her creation as a child of God and by virtue of her baptism into the wider body of Christ ... it's not as if that's new. But what is new is that because of common commitment, we are all walking down a similarly defined road together.
Congratulations, Kirsten! And thank you to Emily, Kristian, Cecily and Beth (hope I didn't miss anyone) who helped prepare her for this day. Congratulate her yourself by emailing her at peacheskmh@hotmail.com (I was going to have you leave a comment on her blog, but she is on livejournal with comments from non-users disabled ... do something about that, Kirsten!)
The other big event is Nicole Walter's great grandmother's funeral. This was a big person in Nicole's life, and her death, while not unexpected, leaves a hole. Now, as Christians, we know that we are bound by bonds of love that cannot be broken, even by death. But that doesn't mean that the separation of death doesn't hurt. Part of being in the family of Christ that we are in together with Kirsten and Nicole and everyone is that we carry each other through these times.
Pray for Nicole and her family today ... and send her words of love on her
blog
.
Every day has some good, some sad, and a lot that's just a big mix. But two things never change. God is always God.
And we're all in it together.
|
Mike
at
5/15/2004 09:15:00 AM
I leave for Ghana three weeks from tomorrow ... something that I feel increasingly feel excited and ill-prepared for. It's not that I haven't done all the "stuff" that I need to do before I leave. I have the visa, most of the stuff I need to bring, I'm working out the glitches with the video equipment and computer, I've got just about everything around the house ready for me to leave.
I feel ill-prepared because just about everything I do I can prepare by by working harder, by
doing
a whole bunch of stuff. It's the same kind of itch we get when something happens to someone or we want to honor someone and our first instinct is to go
buy
something for them. My default gut feeling is that when approaching a trip this big I should be
doing
more to prepare for it.
But more and more, I realize that resisting the urge to do, to fill the time with functioning, is what I really must be about. For me to be prepared to go to this place that is so different from anywhere I've ever been and to get and give the most I can, I need to be as receptive as possible. I need to slow my life down and do less rather than more.
So that's what I'm trying to do ... in little ways. There are still things to be done and I will do them, but I need to look at the way I do things.
Take driving. For the past couple days, I've had to do my usual amount of driving, but I've tried to do it while always driving at or under the speed limit.
The first thing I learned is that it's just damn hard to do. NOBODY drives the speed limit -- especially on the freeway -- so you have to be in slow lane and then everyone is always going around you. In the city, you end up feeling like a snowbird (an Arizona term we use to describe older people who show up in the winter wearing Bermuda shorts and driving their big cars very slowly with their turn signals perpetually on).
But the other thing I learned is that it feels really good to slow down, to enjoy the journey instead of concentrating so much on how fast I get there. It might seem simple or stupid, but something simple and stupid like driving the speed limit has helped me breathe easier, helped me feel like I'm appreciating life instead of pushing through it.
|
Mike
at
5/14/2004 11:53:00 AM
They say that what you mock
Will surely overtake you
And you become a monster
So the monster will not break you
I was reading
David's blog
(yes, David, I read your blog!) and he was writing about the prisoner abuses in Iraq and how it sickened him on so many levels. Really, how can you argue with that. There is nothing about it that isn't sickening.
But there's a couple things about this.
The quote above is from
"Peace on Earth"
by U2. What is happening with these prisoner abuses is that we have evidence of what, frankly, anybody who has been paying attention knows has been going on already. In the name of fighting people who are bent on committing atrocities against us, we commit atrocities of our own. We become the monster, so the monster will not break us.
Except it doesn't work. The biggest problem with the prisoner abuses, and with the whole war, is not that we are killing people, maiming people and not respecting their human dignity -- though that stuff is really, really bad -- it's that it perpetuates a cycle that will continue to create more and more of the same until someone has the courage and the sanity to say "STOP!" "ENOUGH!"
And it's already gone too far
Who said that if you go in hard, you won't get hurt?
Jesus, can you take the time
To throw a drowning man a line?
Peace on Earth
Tell the ones who hear no sound
Whose sons are living in the ground
Peace on Earth
No whos or whys
No one cries, like a mother cries
For peace on Earth
She never got to say goodbye
To see the colour in his eyes
Now he's in the dirt
Peace on Earth
The problem isn't the abuses ... it's the idea that the abuses are wrong but somehow wars where children (combatant and noncombatant) die are OK. Really, the abuses shouldn't surprise us ... once a nation has already decided that war in the name of peace, that abuse in the name of safety, that these things are OK ... it's just a matter of where you draw the line when you wake up each morning -- and some mornings the line is drawn further out than others.
But here's the thing, and here's the hope.
Even though we act like some third-rate military dictatorship a lot of the time, we're not. And the difference is that these things are coming out, they're being made public and people are horrified by them and there is talk of prosecuting people and there is a common belief that this is wrong and this is not what we should be about.
The hope is that people are good. And when good people see terrible truths, when they see wrongs committed, they want to make things right. People see the sickening pictures coming out of the prisons and they want it to stop, they want to make things right. That's why it's so important to let people see the flag-draped coffins coming off the airplanes. That's why it's so important that people see the devastation caused by our bombs to Iraqi civilians. That's why that Nightline program was so important. Because people are good ... and good people when exposed to the truth in ways so plain that they cannot ignore it will cry out for justice and true peace.
America is the hope of the world. Not the American Empire of the neocons, but the idea of America. And that's what America really is. It's not a country ... it's an idea. And, thank God, the idea is far more powerful than the country. Because the country gets it wrong all the time. All men are created equal? That's an amazing idea. And even when we don't act that way (or forget that women are, too), we've got the idea to remind us who we are.
I'm sickened by the pictures, too. But I want all of them to come out and I want them on every TV and in every newspaper. Not because I want heads to roll, but because the truth will set us free ... it really will. And the sooner we expose all things to the light, the sooner we will be many steps closer to peace on earth.
|
Mike
at
5/10/2004 10:17:00 AM
OK, I know it's just a TV show, and I really haven't watched it regularly for a couple years, and I know that if you're going to start finding fault with "Friends," you should start with them even being able to afford that apartment or how the couch in the coffee shop is always somehow free and waiting for them (how come that never works for me), but that said, a couple things about the Friends finale:
*Could we have had a labor and delivery scene that looked any LESS realistic? Let's not even talk about nobody knowing that she had twins (wouldn't Monica and Chandler have seen ultrasound pictures?). Let's talk about that girl popping out kids like a Pez dispenser without even breaking a sweat (and in a labor that lasted about 3 minutes). Also, unless the second baby was breech, how did the doctor know it was a girl before the head was even out?
*How in the world did they get those kids out of the hospital the SAME DAY THEY WERE BORN??? First off, they didn't know they were twins so they wouldn't have had the extra car seat -- and by the way, where did that two-at-a-time stroller mysteriously appear from? But beyond that, there is no way the hospital would have let them out? Plus, are we to believe that obsessive compulsive neat-freak Monica would take two newborns out of the hospital and have them hang out in an apartment where movers are moving in and out the same day they were born? And what's up with them carting these kids off to the coffee shop in the middle of the day just hours after their birth?
*Ross and Rachel -- so if Ross loved Rachel so much that he couldn't live without her ... why didn't he quit HIS job and move to Paris? Why did he force her to choose between him and the job she wants.
*Also -- does it bother anyone else that Emma is pretty much an accessory to their lives? I mean, Rachel is about to take Ross' daughter to Europe for the forseeable future and he makes no effort to spend any time with her at all ... nor do they make any effort to spend any time together as a family.
The best solution would have been for Chandler and Monica to adopt Emma. It's clear that Rachel and Ross don't really care that much about her because she doesn't really enter into any of their decisions and they never spend any time with her. Let Monica and Chandler raise Emma -- she'd be staying in the family and then Rachel and Ross could live wherever and do whatever.
I didn't mind it at all when Murphy Brown had a baby (probably a bunch of you reading this have no idea what I'm talking about), because it absolutely turned her life upside down and she really struggled with the balance issues that all of we who are full-time employed people and parents struggle with. But, the fact that it was fiction aside, it really bothers me that Ross and Rachel have a child and they spend more time hanging out with friends at a coffee shop than with the kid. I know it's fiction and it's supposed to be entertainment but come on!
Grumble. Grumble. Grumble. OK, I'll take off my curmudgeon hat now. What can I say that's positive.
It's a FABULOUS day outside and I'm going to go mow the lawn and seal the deck. Mackinnon is going to Ghana, which is super cool. I had a GREAT dinner last night with the discernment group and, from the sounds of it, Rory and I are going to have a spectacular discernment group next year with a whole bunch of really cool people already saying they're interested. Tabitha got her job at the International Institute. Katy is going to do the Cadigan Fellowship at the nursing home. I had a great visit with my dad while he was here, and he got to spend lots of time with his grandkids. Life is wonderful!
Oh ... if you haven't gotten a mothers' day gift yet, call 1-800-334-7626, ext. 5129 and talk to the people at Episcopal Relief and Development about buying a gift from their "Gifts for Life" catalog. You can buy the special mom in your life a gift that will literally save a life. I got my mom a donation that will keep an AIDS orphan in Africa alive for a year. There are lots of gifts at various price ranges from under $20 on up. And for a holiday that is about the giving of life, there is no more appropriate gift.
ER-D will even send a really nice gift card to her announcing the gift and telling her about what it's going to. If you order today, the gift card won't make it by Mothers' Day, but you can still let her know yourself what you've done ... then the gift card will come next week.
Unfortunately, they don't have the catolog up online ... but I just called ER-D and a very helpful person on the other end of the phone went through the catalog with me and helped me pick out a gift and the whole process took less than 10 minutes. Again, you can reach ER-D at the Church Center at 1-800-334-7626, ext. 5129 and you can pay for it all over the phone on your credit card.
If you want to find out more about ER-D, just go to (duh!)
ERD
|
Mike
at
5/07/2004 10:45:00 AM
Jeffrey Sachs says the UN Millennium Development Goals are acheivable. Many say he is wrong, that we can't do it
For all those who say we can't ... two figures I came across today:
$2.9 billion/month - amount of additional U.S. aid needed to achieve UN Millennium Development Goals (source: UN Development Programme)
$4.7 billion/month - current cost of military operations in Iraq (source: Pentagon officials, quoted in an article by MSNBC's Christopher Farrell)
For $1.6 billion less a month than we are spending in Iraq, we could be paying our fair (and pledged) share to improve the lives of the world's neediest 2 billion people.
The questions are so obvious that they become rhetorical:
What is the better way to fight terrorism -- creating animosity toward us in the Arab world or being the patron saint of the world's poorest?
What is the better way to spread democracy -- turning Iraq into a police state or acheiving universal primary education and equality for women?
What is the better way to live out the Gospel of Christ -- killing or healing?
It's easy to look at these figures and say "well, it's not that simple." Actually, it is. Would there be barriers in making sure that $2.9 billion a month got to the places it needed to go? Absolutely. Can we work to overcome them? Absolutely? Can you make an argument that the people in Iraq are better off because of the war? Sure (though I am not sure I buy it, but you can make a good argument for that.).
But there is no argument that makes any sense to me that says spending more money on something that is less effective at achieving our stated objectives is anything but pure stupidity.
I watched Nightline last night -- fortunately PAX TV aired it after the corporation that owns Channel 30 censored it. It was incredibly powerful to sit there for 35 minutes watching nothing but names and faces of those who had been killed. It gave you a taste of the enormity of it.
But those names and faces are only a fraction of the sin, of the death and pain of this war.
There are the names and faces of the Iraqi people who have been killed, maimed or had their homes destroyed.
There are also the names and faces of the millions of people worldwide we could have been saving from things like HIV/AIDS, tuberculosis, malaria, starvation, and many other things that we CHOOSE not to save because we CHOOSE to spend our money on waging war in Iraq.
We are all busy people. We have lots going on in our lives and it is important stuff. But, as Martin Luther King, Jr. said "evil prospers when good people do nothing." We meet Christ when we feed the hungry and tend to the sick. We become Christ when we feed the hungry and tend to the sick. There is nothing more important in our lives, nothing that will bring us more meaning, more joy, more purpose than bearing Christ to those in need.
It's not always popular to speak out against the war. It's tough when people we love like Paul Scharre are (possibly?) over there. But it's just too important not to.
It's not about politics. It's about saving lives. It's about following Christ.
|
Mike
at
5/01/2004 04:15:00 PM