Everything Not Sudan
Apologies to those of you who surfed over for more Sudan tales and pictures ... I've only got a few minutes to post and it would take a lot longer than that to upload all the photos I want to close out with. With any luck at all tomorrow...
So, to catch you up on all the stuff that's been going on that is not Africa-related!
BIG NEWS! -- We bought a new house! It's a great place that was owned by Anna Mason -- the widow of the Rev. John Mason, a priest of our diocese. It's on Pershing just west of Skinker (you can see our porchlight when you step out of Kayak's). Robin and the boys will be able to walk to Forsyth. I will be able to walk/bike to campus. We close on May 31.
Now all we have to do is sell our house ... which is what we've been working like crazy to do.
Isn't it adorable? Don't you want to buy it at or above asking price? The open house is TODAY (May 1). So, if you're interested in a great 3 bedroom, 2 bath, finished basement, great deck and backyard, 2 working fireplaces, etc., etc. right across from a beautiful park in U. City ... come on by 1075 Midland between 1 - 4 pm.
Seriously, the more we work on fixing the house up and cleaning it up (and trying to keep Hayden and Schroedter from messing it up faster than we can clean it), the more we ask ourselves "why are we moving?" It's a great place (but the other place? Location. Location. Location.)
Anyway ... and you can
check the place out online, too!
The kids are doing OK with the move ... Hayden doesn't really understand that anything is going on. Schroedter is stressing ... this is going to be hard for him. He hasn't even seen the new place yet, so I imagine it will be easier for him once he does.
Other news. For the next three months, I will be the part-time network facilitator of
Episcopalians for Global Reconciliation
-- the amazing group of folks I've been working with who are working for a spiritual transformation in the Episcopal Church through a mission orientation structured by the
Millennium Development Goals
.
My Bishop is being very generous letting me take this on in addition to my other responsibilities (between this and moving, I think sleep will be a rarity the next few months). It's only possible because I'm on an academic calendar and, frankly, I'd be doing a lot of this work as a volunteer anyway this time of year.
It's a great honor to work with these amazing people doing this important work. I'm excited.
It's May, so we're heading toward graduation. And that means saying goodbye to some wonderful seniors -- Emily Bloemker, Gretchen Guschke, Banji Iyun, Katherine Karr, Tara Lohr, Ryan Wallace, and Rory Walsh. They are all so wonderful and we will miss them!
The good news is, we only really have to say goodbye to three of them. Gretchen is going home to Florida. Tara is doing
Teach for America
in New York City. Katherine is doing a Master's/PhD at
University of Virginia
in
Charlottesville
. Emily, Ryan and Rory will be living in a house together in STL ... and Banji's sticking around another year to get his Master's at Wash. U.
Schroedter is all geeked up about the new
Star Wars movie
(and after watching the trailer, I am, too!). I've got to try to get tickets the opening weekend or I truly believe he'll explode -- and maybe me, too!
I'm sure there's lots of other stuff going on ... but for now, I think the final coat of wax is dry on the kitchen floor upstairs so I can now toddle off to bed.
Photos tomorrow, I hope!
|
Mike
at
4/30/2005 11:52:00 PM
The Hospital
Further tales from our trip to the Anglican Diocese of Lui in Southern Sudan

Lui is blessed.
How can that be? The estimate we heard was that under-five mortality rate in Lui is between 30 and 50%. Moru children are dying of nodding disease. There is one type of tree that, whenever you see it, you notice that all the bark is scraped off it because the bark is used to make a local remedy for malaria - which effects just about everyone. Just about everyone we met in the Lui/Mundri area had lost somebody ... to illness, to war, to something.
And yet Lui is blessed ... not just with amazing people with amazing resilience and amazing faith ... but with the Samaritan's Purse Hospital.
Samaritan's Purse
is a nonprofit founded by Franklin Graham (Billy Graham's son). It calls itself "a nondenominational evangelical Christian organization providing spiritual and physical aid to hurting people around the world." In Lui, Samaritan's Purse is not described in a sentence but in individual words.
Mercy.
Love.
Hope.
SP has been working in Sudan since 1993. In 1997, they built an 80-bed hospital in Lui. We were told that patients are flown into Lui/Mundri from all over ... including Khartoum ... because SP has technology -- like ultrasound -- that even hospitals in Khartoum don't have. It is one of the only surgical facilities in all Southern Sudan ... and also one of the few places where Western-trained doctors (usually with World Medical Mission ... the medical part of SP) come to practice.
And still, even with all this, Gomer, the hospital administrator who showed us around the hospital Sunday afternoon, gave us the 30-50% under-five mortality rate (the actual rate is impossible to know since war has prevented data-gathering. But when Gomer was in Sierra Leone, the under-5 mortality rate there was around 30% ... and he says its significantly worse here.
At least now, with the peace agreement in place, they don't have to worry about attack. But that hasn't always been the case. Whenever the government bombed Lui, the hospital was a prime target.
Read this article on the SP website to learn more.
As we walked through it, we walked through buildings where the floor was the ruin of the old, bombed out hospital and the rest of the building had been built on top of it. Here the floor Bishop Smith is walking on is "old hospital" and the surrounding walls and ceiliing is "new hospital"
And yet, through it all, the hospital has never closed.
We came bearing gifts. Susan Naylor, a nurse as well as a deacon, had collected a suitcase of medical supplies for the hospital. When we were actually there and looked at the enormity of the crisis, it seemed like so little ... but we also knew that it was dearly needed and graciously and gratefully received.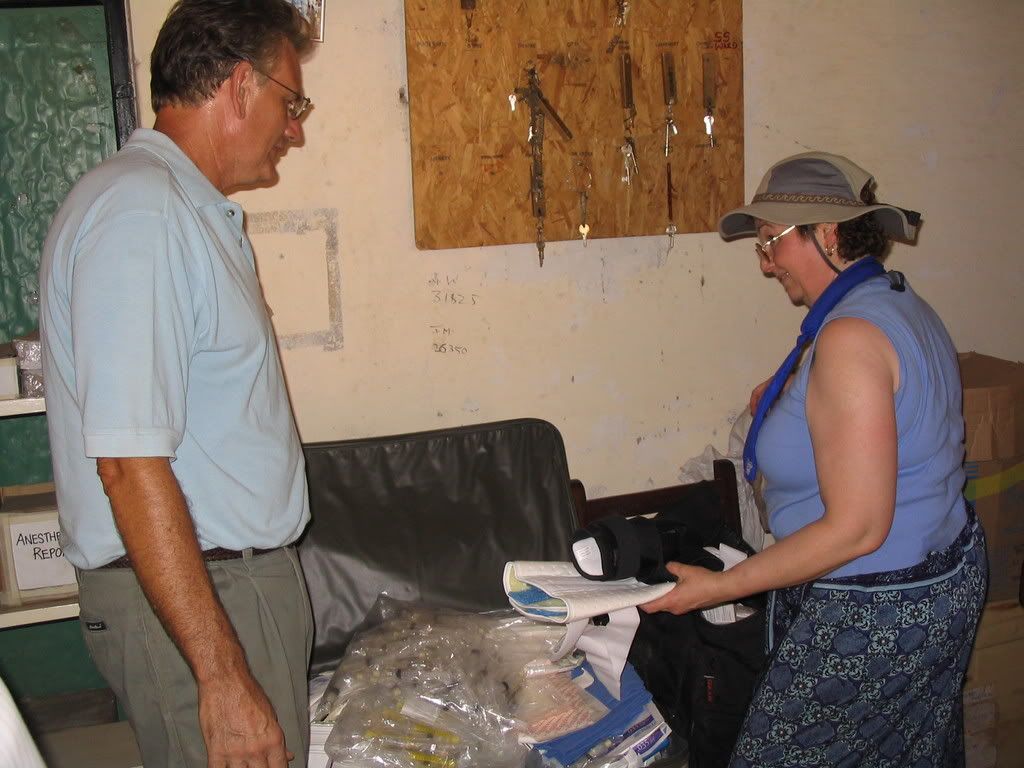 Gomer and Jeffries took us on a walking tour of the hospital, showing us the various wards, introducing us to various doctors on duty.
When I was in Ghana, my greatest fear was getting sick while I was there. I realize how completely dependent I have become on Western medicene and the norms of medical care in this country (since I am among the fortunate in this country to have medical insurance).
For example, today Schroedter came down with a high fever at school so I picked him up and took him to his pediatrician. It's a typical American suburban doctor's office. Fish tank and books and toys in the waiting room. Everything is sterile and very clean. The whole place gives you a feeling of competence and confidence.
As we walked through the Lui hospital, the feeling was very different. Here was the waiting area.
... which all things considered is really in great shape. We were taken to the labor/delivery and maternity ward where a nurse showed us the exam/birthing room.
Again, incredible by Lui standards -- concrete floors that can be swept and kept clean. A ceiling that doesn't have dirt continually falling out of it contaminating a sterile field. But by the standards we are used to ...
And yet Lui is blessed. Incredibly so. The Lui Hospital is an amazing undertaking. Doctors come here and train the locals to be nurses and, eventually they hope, doctors. They desperately need doctors to come in and train people so they won't be dependent on Westerners flying in for six-month stints.
The hospital is an impressive operation. This is the staff board ... and it gives you an idea of how many people the hospital employs. In a small speck of a village where just about every structure is pretty tukal-like, the hospital is actual buildings.
It gives a sense of permanency to a place that in someways looks like it could blow away otherwise.
One of the signs of hope in the hospital compound is this:
Not only is it new construction (as I've said before ... one of the wonderful signs of peace) but it's a nursing school. Their goal is to train nurses not just for the Lui Hospital but to send out into the bush and (maybe) to start clinics. But they need people who can come over here and train. Susan was excited about the possibilities of linking the nursing community (particularly the parish nursing community) in St. Louis with SP's work here.
It is hard to imagine what Lui would be like without Lui Hospital and Samaritan's Purse. If it weren't that the people are so extraordinary, I'd say that maybe Lui wouldn't be there at all ... but I know it would find a way to be. But you wonder what things like malaria would be doing to the population here if the hospital weren't around. As it is, they still have a tough time getting locals to seek the formal medical treatment ... many still prefer local remedies that are sporadic at best (such as the tree bark for malaria).
It's also another example of what increased infrastructre could do. Lui is a difficult place to get to and a difficult place to live. That makes it a difficult place to attract outsiders to. Better roads. Better water. Electricity. These things wouldn't just improve the lot for the residents ... they would make it easier to attract doctors and teachers and the people who can speed the pace of development.
Probably if you lined me up with Franklin Graham, we would have large theological differences ... but we do not differ where it counts -- that being disciples of Christ first and foremost means giving up our lives for the sake of the world. It means going into places like this that the world has written off (if the world even knows it exists) and bringing medicene to the dying, food to the hungry, and water to the thirsty.
Lui has wonderful people doing those things. And even more amazing, the people we talked with who are coming in and doing these things could only talk about how blessed they were by the work and the people.
Tomorrow a wrap up and lots, lots, lots of pictures.
|
Mike
at
4/29/2005 01:40:00 PM
Want to make a difference? Check this out!
Taking a break from Sudan tales for a moment to move a bit south. Please read and then I hope you'll be moved to act.
Jen Coil is a former ECM student who is now a RN in Kansas City. A couple years ago, she traveled to Tanzania and worked with AIDS orphans in Mpwapwa. She is an amazing and compassionate woman and she has continued to labor for the children of Tanzania since her return.
I recently received this email from her with a request that I pass it on.
I'm fundraising now for a large relief effort for the Mpwapwa region of Tanzania. I stayed in Mpwapwa, Tanzania for 4 months at the end of 2003. The Orphan rate is growing exponentially because of AIDS and this year Tanzania is again experiencing another famine. Orphans are the hardest hit by these unfortunate events because they lack any sort of representation. They are hungry and unkempt. My goal is to raise $20 for each child. There has been no project yet established for these orphans, but because of the desperate need, I feel called to raise money for relief right now instead of setting up a program. All of the money donated will go directly to these children for the necessities they're lacking. I have histories and pictures of orphans in 8 of the parishes in the diocese which represent only 11% of the population. 850 orphans exist as of last year in these 8 parishes.

There is on average 106 orphans per parish. I am hoping to have American parishes support Tanzanian parishes. If you are interested or want more information about my efforts, please email me at jencoil@yahoo.com. The more people we get involved, the faster the relief can reach those children who are desperate. Thanks for your help!

Sincerely,

Jennifer Coil
To give you some pictures of who Jen is and what captured her heart, well, take a look.
Here's Jen with a Mpwapwa friend.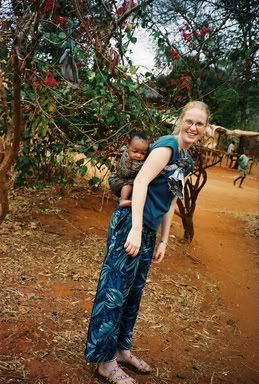 Here are some shots of the children.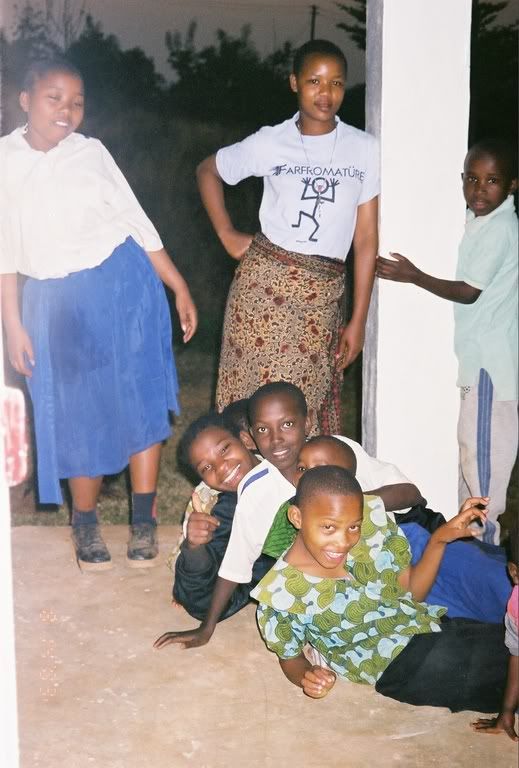 These are the houses of Mpwapwa
Here is what passes for a playground for the kids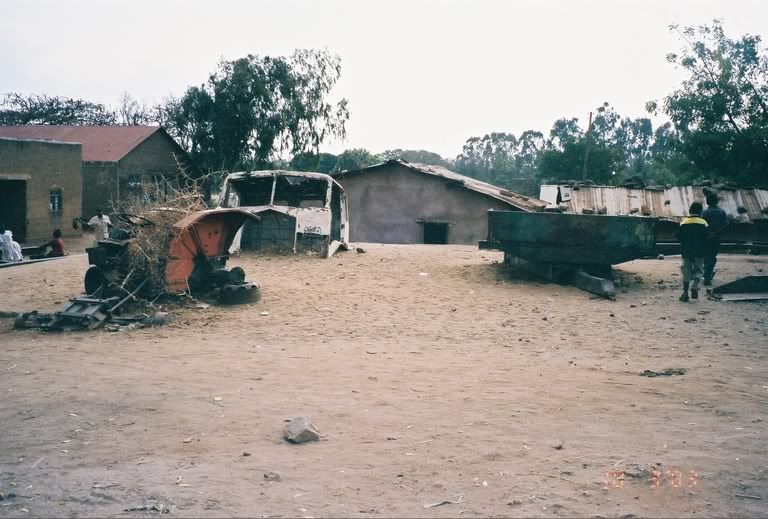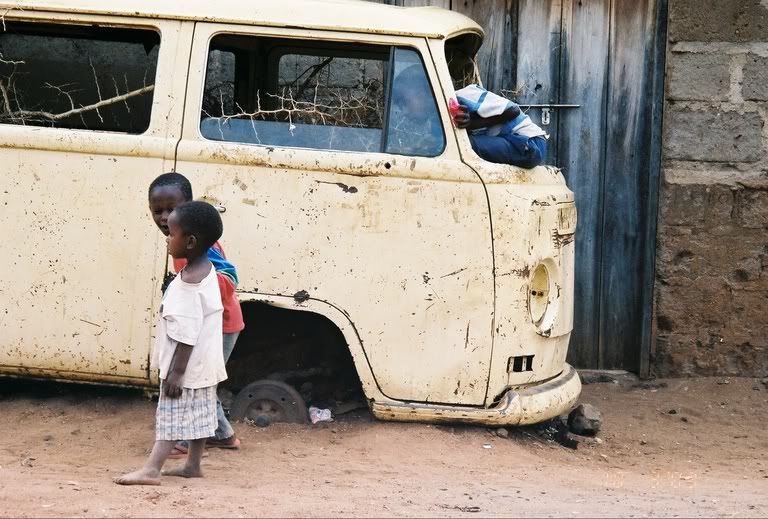 I have pledged to give 0.7% of my income toward accomplishing the
Millennium Development Goals
. 0.7% is the percent of the wealthy nations' GNP that it would take to meet all the goals. Last year, I gave it to the All Souls Liberian Episcopal School in Buduburam, Ghana. This year, I'm giving it to Jen's efforts.
I hope you can find it in your heart to give as well. I urge you to give at the 0.7% level ... whether to Jen or somewhere else working for the MDGs. You can use
this site
to easilly calcuate what that percentage of your income is.
I can guarantee you that you won't find a better person to be tackling this issue than Jen.
Thanks for reading.
|
Mike
at
4/26/2005 09:36:00 PM
Sunday Morning in Lui
As Bishop Smith had preached at five services over three days, he asked me to preach at the Sunday services at the Cathedral in Lui. The first service was a 9 am English service, which used the 1892 Book of Common Prayer. My assumption was that this was the liturgy they preferred ... like the Elizabethanish liturgy I found in Accra. Actually ... no. They used 1892 BCPs because that's all they had. Note to self ... contact the folks at Church Publishing and see if they can ship a batch of new prayer books to Lui.
Preaching in Lui was an incredible joy and honor. At the English service, I didn't need a translator (I hope ... at least I didn't have one). There were about 40-50 people at that service. The main service was the 10:30 in Moru and Arabic, with about 150-200 people (I'm so bad at judging numbers). There my translator was Steven, an amazing young deacon (soon to be priest) with incredible depth, passion, intelligence and humor whom I would love to bring here to study in America. Here we are preaching together (thanks to Lisa for the photos)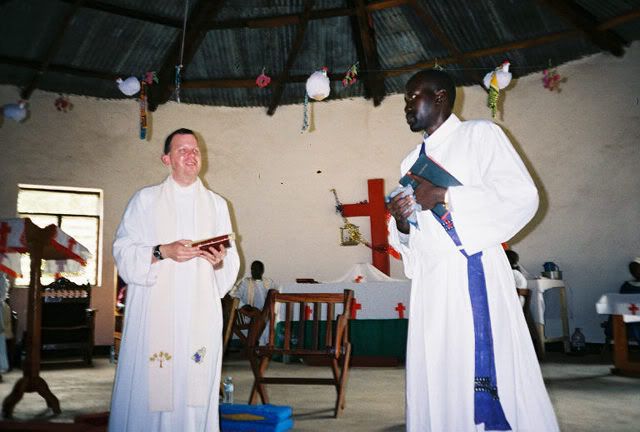 Bishop Smith was to confirm at this service as well, but just after I started my sermon, he started to feel weak and his vision started to fuzz out (he swore it wasn't my preaching, but I'm not so sure). Susan, being a good deacon, got him back to his tukal and lying down and Bishop Bullen took over the confirmations. It was just his turn. Except for Reynolds, who I believe is nuclear powered, all of us got one degree of sickness or heat exhaustion (in all cases a low degree) sometime while we were there.
So Bishop Bullen did the confirmations. As he went down the line confirming people, he stopped at one child and announced that this child had the "nodding disease". It's a neurological disorder that effects only the Moru people of Southern Sudan ... and only the children. It's not completely understood or even really partly understood. They don't know how the kids get it or why it is only Moru who contract it. The children who have it stop growing and their brains stop developing as well. The nodding of their heads (where it gets its name) is really one of the more benign symptoms. More insidious are other effects which are extremely painful. The disease is fatal. There is no known cure.
Then again, it's not like the world's best and brightest are working on it. As I watched Bishop Bullen lay his hands on these children with nodding disease and as I saw them around Lui and the surrounding areas, I couldn't help but think if this were happening in Seattle or St. Louis or Washington, D.C., that we would have isolated it and found a cure 10 years ago. But here in Southern Sudan ... well ... frankly, it's just child after child that the world doesn't know exist dying painful deaths.
As I sat there watching Bishop Bullen confirm this child with nodding disease, a lyric ran through my head:
Where you live should not decide
Whether you live or whether you die
It's from
"Crumbs From Your Table"
by U2 (of course). I saw lots of children in Lui. Some seemed pretty healthy, some were living with death sentences. It's a terrible thing seeing a child and knowing that child will die a painful death. I would see these children and in my mind I would see Schroedter and Hayden ... and I couldn't keep myself from imagining them with the same future.
It tore my heart out. It should tear my heart out. The reason Hayden and Schroedter don't have nodding disease is geography ... plain and simple. Where you live does decide whether you live or whether you die.
And there was Bishop Bullen confirming them ... affirming that indeed they
are
my children -- members of my family. And they knelt there, unable to keep their heads and bodies still, with dull, glassy looks in their eyes, being supported by a parent or older sibling or aunt, uncle or friend and the Bishop asked the Holy Spirit to grow more and more in these bodies that would never grow again.
If we don't do anything about this ... then all we believe is just words and our saying them is blasphemy.
It was a wonderful occasion ... like all the others. But a haunting one, too. Our burial office reminds us that
"in the midst of life we are in death"
... the past two days were a reminder of that ... and of how life and death intermingle. Mama Jarusa's funeral was death and life. The confirmation services were life in the shadow of death ... but also breaking through it. The absence of so many men from the congregation and the strength of the mother's union in pesevering and being the backbone of church and community.
Tomorrow, I'll post about our trip to the Samaritan's Purse hospital with lots of photos.
|
Mike
at
4/26/2005 10:12:00 AM
Thanks to Lisa Schroeder, here are some photos from Mama Jarusa's funeral.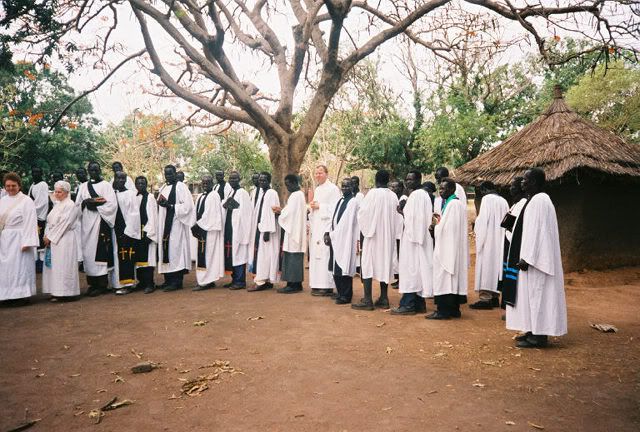 The procession leading to the grave. Deacons Peggy and Susan are in front. I'm with the priests in the rear. We processed singing a short distance and then gathered around the grave for the placing of the cross.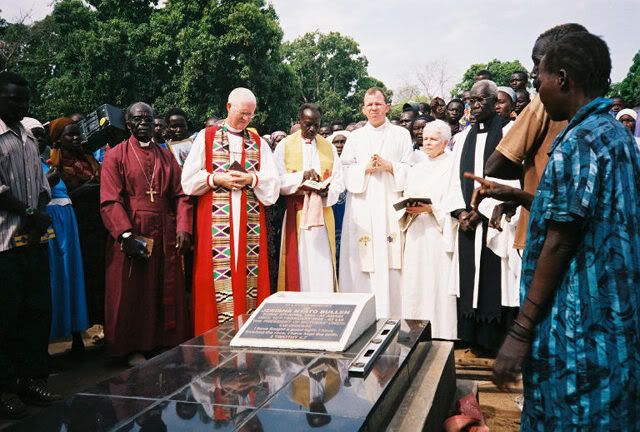 Standing at Mama Jarusa's grave. The man standing between Bishop Smith and I is the head bishop of the province ... he led the service (out of the American Book of Common Prayer).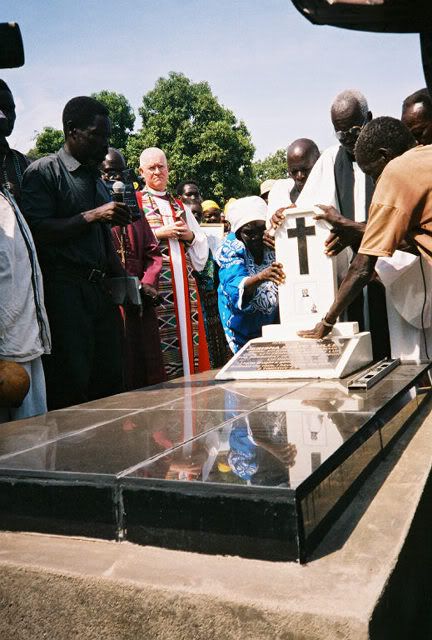 The cross is placed on Mama Jarusa's grave.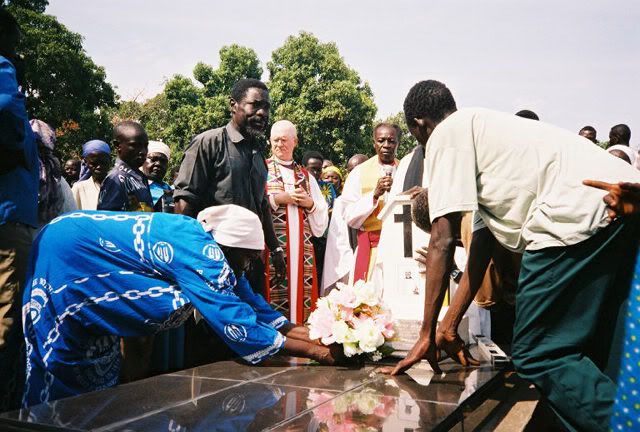 Final adjustments are made to the cross and flowers are placed on the grave.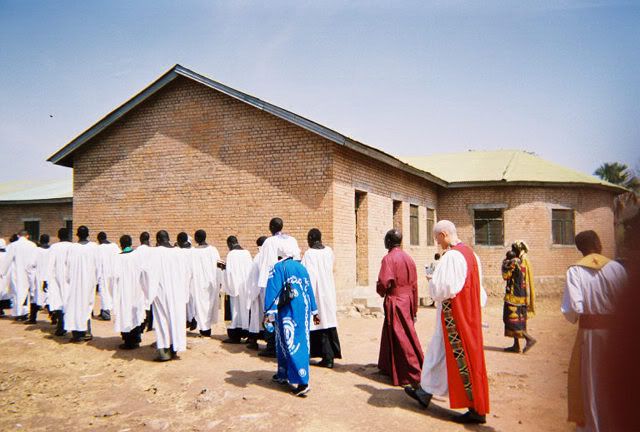 Procession into the Cathedral.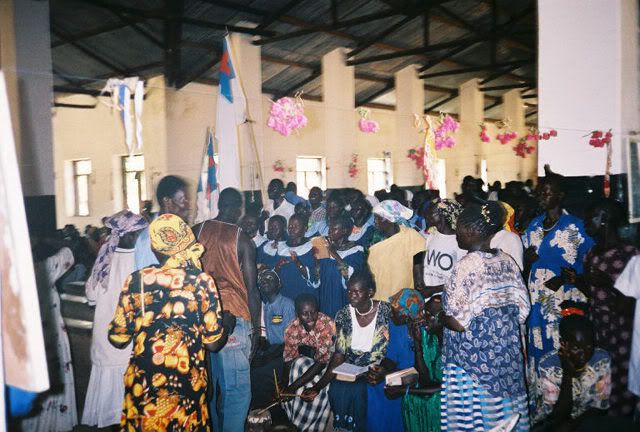 Singing during the offertory during the funeral Eucharist.
More to come. Thanks again to Lisa for the photos!
|
Mike
at
4/21/2005 12:52:00 AM
Mama Jarusa's Funeral
Every night, the singing got louder.
The singing got louder because the crowds got bigger. They were streaming in from miles around ... maybe as much as a hundred miles around. Almost all of them on foot or by bicycle. Carrying with them whatever they would need for the journey but also knowing that they would have a place to stay and other things provided for them when they arrived.
We passed the people all day on Thursday and Friday when we were driving to and from the confirmations in the bush. People heading toward Lui. We would slow down and they would wave and shout greetings at us.
When they got to Lui, they encamped in the area around Mama Jarusa's grave ... which was right near the Bishop's tukal. And at night, they would sing. And as the crowd grew, so did the singing.
The funeral was to take place in two parts. The actual burial had happened weeks before ... 3 days after her death, by custom. Saturday morning would be the placing of the cross ... literally putting the headstone in place and dedicating the grave ... and then a procession to the Cathedral for the funeral service.
Bishop Smith was asked to preach at the funeral. I certainly didn't envy him. Even though in my mind I understood the genuineness of their hospitality and how they truly believed that we are family and we belonged there, I couldn't help but feeling at least a little like an intruder at a family occasion ... kind of like the distant cousin who shows up at a special family dinner when nobody has seen them in ages. Yeah, you're family, but ... Guest preaching is tough enough ... but preaching at the funeral of the bishop's wife!
After breakfast, we went over to wait by Bishop Bullen's residence (which was where all the crowds were gathering). There were people everywhere, dressed in incredible colors. The choirs and the clergy were getting vested. We were ushered into the same tukal where we had met Bishop Bullen on our first night and sat waiting for the chief bishop of the province to arrive from Juba (he was late ... not a surprise given the distance and the roads).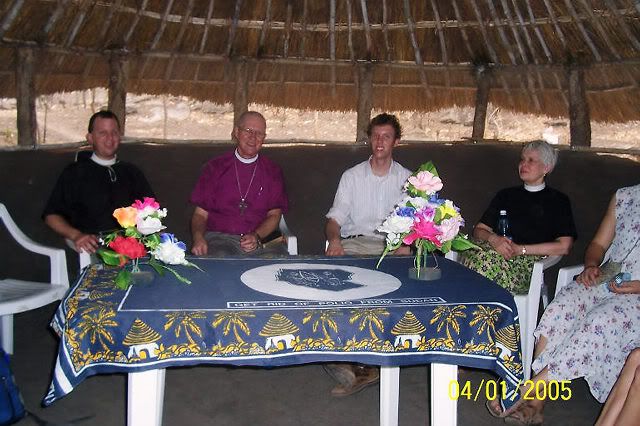 (By the way, all the pictures that have the dates on them are courtesy of Susan Naylor)
Outside the tukal, we could see a fire lit and the people heating the drums (which is how you tune them ... the heat stretches the skin and changes the timbre). When everyone had arrived, the clergy vested and we were told to go stand in orders.
The procession was enormous ... only at General Convention had I seen anything larger. Every priest and deacon in the diocese was there and vested (all in cassock and surplice ... Lui is very low church ... I stood out in my alb. Of course, that wasn't the only reason I stood out!).
And this was where it got really, really powerful. The deacons immediately made space for Peggy and Susan. The priests immediately made space for me and the one behind me stretched out his arm so I could sing from his hymnal (we were singing "Onward, Christian Soldiers" in Moru, of course!) so I could join in the singing.
It's impossible to describe what happened in any way that conveys the experience. And we don't really have pictures (though I think Lisa has some) because we were right in the middle of it and too busy just being in the moment .. besides, we were vested and taking part in the liturgy.
It was hot. I mean it was REALLY hot. It was about 10:30 in the morning and the sun was bright and beating down. You noticed it because you were always wiping the sweat out of your eyes, but believe me when I say that other than that I didn't really feel it.
We processed the short distance to the grave and the entire procession formed a great circle around it ... and then the throngs of people not in the procession crowded around also, making this enormous gathering, singing loudly, around the grave. Because we had roles leading prayers, Bishop Smith, Peggy, Susan and I were ushered to the head of the grave and I found myself standing right in front of the headstone.
For a minute I had one of those moments where you kind see yourself and your surroundings almost from the perspective of someone looking at them from the outside. I was in the middle of this incredible crowd of singing people standing at the head of a grave of the wife of the bishop of Lui, a woman who was obviously adored not just by her husband but by this entire community. Part of me marveled at what in the world I was doing there. But most of me was just too busy being blown away by the depth of the love the people were showing for their bishop, for Mama Jarusa, and for God whom they knew was taking care of them all.
The placing of the cross was a simple service. Probably took no more than 15-20 minutes. The presider (the bishop from Juba) led prayers out of a Moru prayer book and also out of the American BCP. Bishop Smith, Peggy and I led prayers from the BCP funeral rite. But again, the technical details don't tell the story. All I can say is that it was one of those wonderful experiences where you know you are in the very depths of what sacred is.
We processed from the grave a short way to the Cathedral. There we had more singing and the funeral Eucharist. Bishop Smith did an amazing job ... a real home run. And he did it by doing what he had to do ... preaching the basics of resurrection and honoring the incredible faithfulness of the people and of Mama Jarusa, past and present. It was one of those situations where he really needed to nail it and he did.
The funeral service was nothing fancy or ornate ... but the emotion and the energy in the Cathedral (which was packed to overflowing) was incredible. At Eucharist, the people just kept on coming and coming and coming. And you got the sense that this was really people being fed.
By the end of the service, we were all that combination of exhausted and energized that leaves you kind of dizzy. We were physically drained from the heat and from the whole experience. We were emotionally drained from the whole experience. But we were also moved and energized from the whole experience.
Reading back over this, it all sounds so inadequate to describe how it really was. Not just the details of the experience, but the power behind the devotion ... and the power that it was as outsiders to feel so genuinely and completely welcomed into the heart of their grieving and celebration for Mama Jarusa.
When I was in Ghana, I wrote about how what I had begun to understand about the true nature of communion was how communion was lived there. Mama Jarusa's funeral was as powerful an experience as I have ever had of communion incarnated. There is a way that I know we can never consider ourselves separate from one another, or consider our lives unaffected by each other ... because we have stood at that grave together ... and we have walked together from the grave to the Eucharist and beyond.
More later.
|
Mike
at
4/16/2005 06:18:00 AM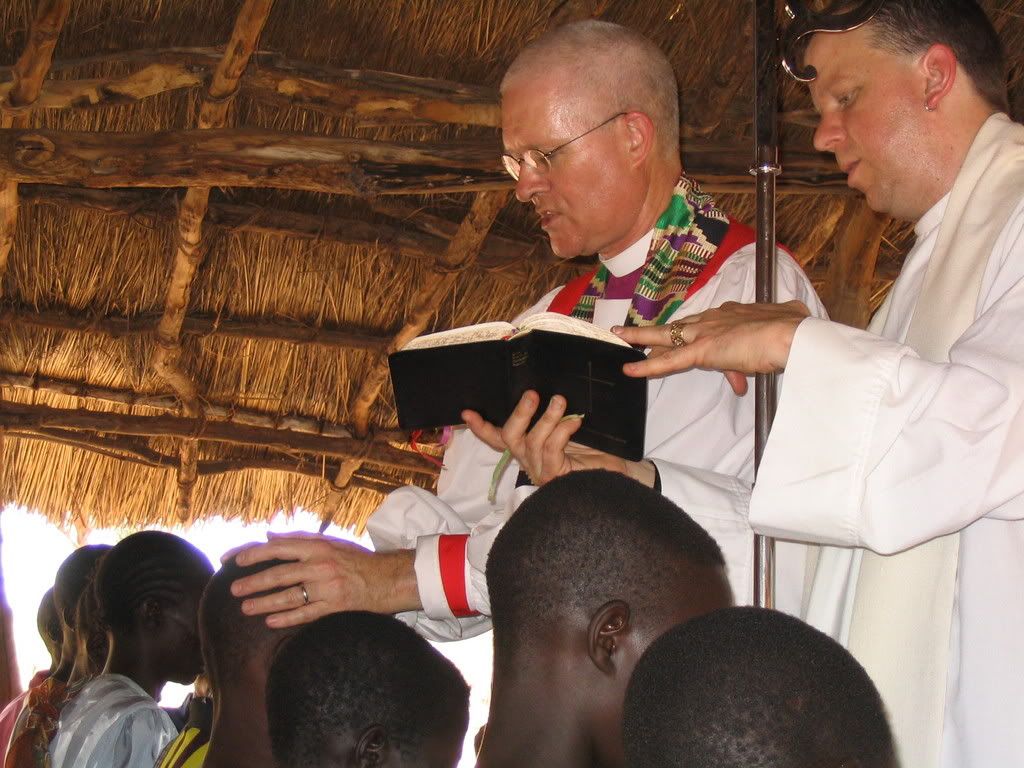 Into the bush
On Thursday we woke up around 6:30 a.m. Or, rather, we
got
up
at 6:30 ... it turns out I was not the only one who did not have a restful night. We had a light breakfast and at 7:30, our chariot arrived ... the Toyota Caravan which served both as the ambulance for the hospital and the transport for the bishop when he was traveling in a group (alone, he travels the large distances in his diocese by bicycle).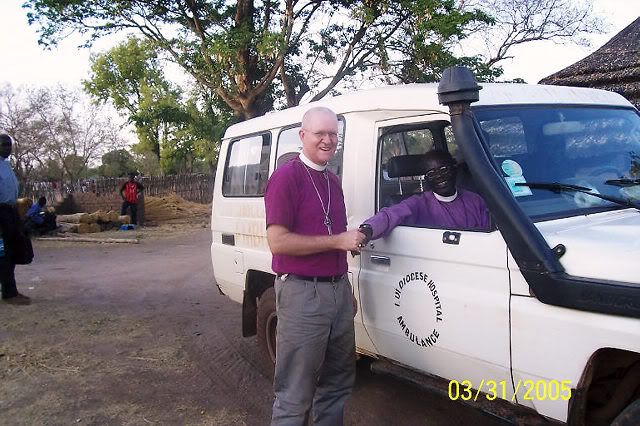 Bishop Bullen, Jeffries, the Cathedral provost and two others (one of whom, a local priest, was our "pilot" for the day ... what Bishop Bullen called his driver because the state of the roads made it seem more like flying than driving.) were making the trip with us. Bishop Smith got into the front seat (being "your lordship" has its privileges), and the rest of us sardined onto benches in the back. This day, that meant, Emily, Reynolds, Lisa and me. The deacons -- Peggy and Susan -- were staying behind to meet with a large crop of transitional deacons in the diocese and also with the Mother's Union (which serves the same function our Episcopal Church Women served in the time before women had access to other lay and ordained leadership in the church). The tight packing in the back ended up providing much needed human cushioning for the road ahead.
After driving for about 30-45 minutes on the main road, we made a sharp left onto what looked like a poorly-cut driveway. I thought we had arrived. Bishop Bullen informed us that we were just moving onto a different road. I asked him what the name of this new road was. He smiled playfully and said "we call it the good road" ... intimating that it was good by comparison to other roads.
Now, when we loaded up at the compound that morning, I thought I knew what we were in for. I had traveled roads with Emmanuel and Robin in Ghana that were much more pothole than road. But I had never seen anything like the "good road." It started off just looking like a path cut by sporadic vehicle traffic through tall grass (which, of course, is what it was ... as you can sort of make out through the front window of the truck).
Then it got rocky ... really rocky. There were times looking through the front window where I honestly couldn't tell you what was road and what wasn't. There were dips we went into and hills we went up where we literally had to all lean in one direction so the vehicle wouldn't roll. If you look through the front window here, you can kind of get an idea.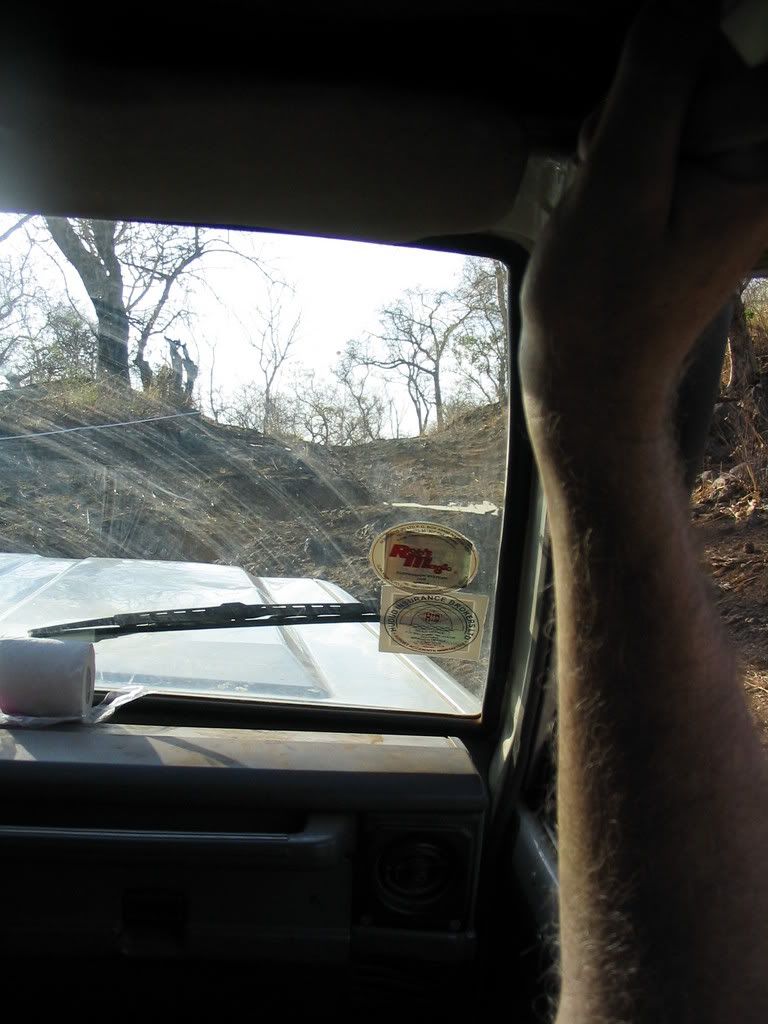 Now, this is not just complaining about the roads from a guy who is used to the American interstate system. For us on this one trip it was a minor inconvenience and even makes good story to tell back home. But for the people who live here, this is serious business.
Roads are the only way to get around. There is no rail. There is no water. There are few airstrips, and those need roads to connect them to anything. If you are going to get people and goods from anywhere to anywhere, you need roads.
There's a reason they call this area "the bush" ... it is isolated and overgrown and very difficult to get to. Most people travel on foot. Some travel on bicycle. On Thursday, we saw only two other motor vehicles the whole day ... and both of those were Doctors Without Borders trucks.
Again, it's easy to romanticize about keeping these areas untouched by development ... but that also means perpetuating inefficient systems of agricultre that are incredibly vulnerable to drought and tired soil, high infant and child mortality, high mortality rates from malaria, etc. We need development ... development that is sustainable and that doesn't do violence to culture ... but we need development and for that to happen, we need roads.
We visited two communities, with the principal event at each visit being a confirmation service where Bishop Smith preached and confirmed. I served as the bishop's chaplain (in the absence of deacons). When we arrived at each place, we were greeted by throngs of people who, shouting and singing and waving banners and branches, chased after and escorted the truck to its parking place under a tree.
When we piled out of the back of the truck, the people gathered around and we were given an official greeting by the priest of the community and Bishop Bullen gave an official greeting to the gathered people.
We were then escorted into a meeting tukal, where someone came with water and a basin and washed our hands.
After resting for a bit (and drinking LOTS of bottled water), we vested and walked over to the church building. The best estimates we have is that it was between 107 and 110 degrees F ... so the vestments weren't the most comfortable things in the world. I kept thinking of a story Vin Scully used to tell about Sandy Koufax pitching on a hot day at Dodger Stadium and losing 8 pounds of water weight that afternoon and having his shoes squish when he walked.
The services were amazing. Unlike Ghana, where the liturgy and music was very British, here it had a definite indigenous feel to it ... with the exception of "Onward Christian Soliders," which I think we heard at every stop.
Over the two days, the bishop confirmed more than 150 people ... most of them in their teens and 20s. The music was incredible ... beautifully and passionately sung. It was liturgy so inspirational and passionate that you forgot how hot it was ... and that was no mean feat!
After the confirmations, they had an offertory, where someone stood up in front with a basket and people brought forward whatever they had ... small bits of money, grain, a pen. And they did it with dancing, with grace and with smiles ... and you knew they were giving not out of their abundance but out of their poverty.
That theme continued after the service when we went back to the meeting tukal. There we were greeted with a feast ... chicken, goat, a huge loaf made from sorghum, a breadlike food called kissera, eggs (probably don't want to eat those ... not always hard-boiled -- as Reynolds unfortunately found out! I'll spare you - mostly him - that picture.) Amazing tea made from hibiscus. And what made it so incredible is you knew that this was coming from people who were looking at the skies wondering when -- or even if -- the rains would come and with no kind of assurance that they would have enough to feed themselves. And yet they fed us like royalty.
I had many of the same conflicting emotions around this that I had in Ghana in similar circumstances. Especially with the fact that we were white and they were all black and they were basically waiting on us hand and foot. The guilt you have to deal with is considerable. But in the end, you realize it really isn't about you. It's about an ethic of welcoming the stranger combined with a belief that as people who come bearing the Gospel we are bringing something of great value -- and it is that which is being honored.
Jesus said about caring for the stranger, the sick, the prisoner ... as you have done to the least of these you have done to me. Well, we certainly weren't an underprivileged class of stranger, but you got the unmistakable sense that we were being treated as Christ all the same ... and in their faces we were able to see Christ's face brilliantly and beautifully.
It was a long day. A REALLY long day. And when we arrived home, we were hot, tired and covered with the red soil of the land from the dusty "road". (check out the difference in the arms of Emily, who went with us, and Susan, who stayed home).
But more than that, we were grateful ... and more than a little dazed. Frankly, I'm not used to encountering this much love. I'm not used to this much unabashed celebration and praise of God. I'm not used to seeing such beauty ... standing side by side with, deeply wrapped up in and breaking out through such poverty.
Watching Bishop Bullen with his people was incredible. It gave me a sense of bishop as shepherd in a new way ... a way that approaches more what I think the early church had in mind with that image. One of the huge spiritual challenges of our wealth is that it's easy for us to convince ourselves that we don't need each other, we don't need the church and we don't need God.
That is not an issue with the people we saw. They knew that they needed each other, the church and God. And their bishop was their shepherd, their caretaker. The love you saw in his eyes for them and the trust you saw in their eyes for him ... there's no other way to put it except to say that you just knew that God would have them be together. There was a strength in that relationship that I would never bet against.
Also, on the way back that evening, we saw a sign of something amazing that was to come. We passed person after person and groups of people headed toward Lui carrying what looked like several days provisions with them.
They were coming to Lui for the funeral Saturday of Mama Jarusa, the wife of Bishop Bullen. People were traveling 75+ miles on foot over three days and more to be present with him and with each other. When Bishop Bullen told us that's what the people were coming for, we all fell silent ... partly out of respect for Mama Jarusa, but partly in awe of the gravity of what was to come on Saturday -- a gathering that was so important that people were willing to walk for three days just to get to it.
More on that tomorrow.
|
Mike
at
4/13/2005 09:45:00 AM
Peace
One of the first things I saw when I got off the plane and stepped onto the Mundri airstrip and into the oppressive heat was a shell casing lying on the ground.
It was a reminder ... along with the SPLA passes I carried in my backpack ... not just of what was in the immediate past, but what was still in many ways part of the present life of Southern Sudan: War.
Southern Sudan is officially at peace. That's a sentence no one could say for the past 21 years. The groups who journeyed to Lui in the two years before us did so under a cloud of fear and uncertainty. They were literally going into a war zone, and the risks were evident. They came home with many of the same stories of wonder and grace that we did ... but also stories of military checkpoints, of moments when they held their breath ... and when they let it out not really being able to breathe easy.
Southern Sudan is officially at peace.
The peace agreement signed in January
officially ended hostilities between the predominantly Arab Muslim north and the predominantly African Christian south. And the signs of peace ... the signs of an exhale that leads to easy breathing ... are springing up everywhere.
Peggy ... the lone one among us who had been there in times of war ... continually gushed about how different things were, about a feeling of openness, about the incredible growth of Lui as a community. She talked about a palpable difference that was just in the air.
Peace made all the difference. It's hard to live when you're always looking over your shoulder for the next bomb to drop. It's impossible to grow an economy when the only road is full of mines. Where is the incentive to build when all you are creating is new targets for the next airstrike? Where is the stability upon which to construct a society when armed teenagers
on your own side
in this conflict can storm into the Cathedral on Sunday morning, threaten to kill everyone there and then desecrate graves in the courtyard because they were upset over a new policy halting burials on the Cathderal grounds (something that happened just last fall!).
The signs of the previous war are everywhere. You can't miss them. Driving along the main road, we would see patterns of potholes -- always the same pattern -- and it was Susan Naylor who figured out first that these were were the mines had been taken out of the road.
And then occasionally, we would pass the wreckage of an unfortunate vehicle that had met one of the mines before it had been removed.
Reynolds went hiking with a friend who took him to a place where there was an unexploded bomb lodged in a tree. The diocesan synod that we were supposed to attend was postponed because the roads were not yet open. The signs of war are still everywhere. Even at the hospital, where there is a literal sign of an armed society.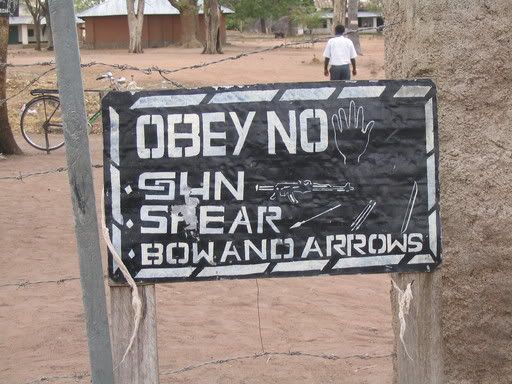 We tend to romanticize war even as we rail against it. We romanticize it because adverse conditions often bring out the best and most amazing aspects of people ... like the chaplain from the hospital who stood up at the Cathedral that morning and urged the teens in soldiers clothing to take him if they would only leave the others. But while those things which adversity draws out of human beings are laudable, there is nothing ...
nothing
... laudable about war. War is evil. War destroys ... and it destroys on so many, many levels.
Southern Sudan is officially at peace. And yet it's not. The agreement has been signed. People no longer live in immediate fear ... but the damage is there, the wounds are there, and the war still goes on in the hearts and minds of the people -- and you can't blame them.
At the first place we visited for confirmations in the bush, one of the opening songs we were greeted with was
"Onward, Christian Soliders"
... sung in Moru. Even though it's one of my least favorite hymns, there was something comforting about the familiar tune in the beauty of the native language and instruments. But then we kept hearing it ... over and over again, wherever we went.
When your whole world is armed to the teeth, the image of the Church militant and triumphant is the natural image to cling to. Exponentially so when the world is armed to the teeth and half of it is coming at you specifically because you are Christian. The casualties of war are much more than the bombed out roads and bridges. Much more than the scarcity of men when compared with the numbers of women and children. Much more than the agricultural and economic systems that haven't been allowed to develop for more than two decades.
The casualties of war are also the hearts that have been molded into battle gear. It is the turning of the cross from instrument of self-sacrificing redemption to battle standard to be used against an enemy.
The causualties of war also include trust. And that is a definite casualty in southern Sudan. People relish in the peace. People celebrate the peace. People have great hopes for development now that peace is here. But when you talk with people individually and in small groups, people do not believe the peace will last ... because they have no trust for the Arabs. They talk about it in the broad, stereotypical terms that remind me of the times I encounter racism in my own society. "Arabs can't be trusted." "Arabs will always try to undermine us." "Arabs are killers. They are evil."
I wouldn't expect anything else from these people after they have been through things I can't even begin to imagine. It makes me realize how truly remarkable the work of the
Truth and Reconciliation Commission
in South Africa was ... to strive for true reconciliation in the wake of terrible atrocity. But understandable or not, the mistrust and outright hatred are an infection ... and a continuation of the war in people's hearts even though the guns and bombs have stopped.
One of the fascinating and inspirational people we met in Lui was David Charland, a missionary with
Church Mission Society
who has been in Congo and Sudan for about 20 years. He is not optimistic about the peace holding ... but not because he doesn't trust the Arabs.
He says that hopes are sky-high now ... unrealistically high. People believe that now that peace is here that development will come quickly. And indeed, the pace of change in the first three months has been quick. But there will be many delays and many frustrations. And the people will get impatient. And even though the peace has come, the guns have not disappeared ... they are out there, and they are in the hands of children and others who are used to dealing with their frustrations and problems by force.
The official hostilities are over ... but this is still a society where guns = respect, where guns = power. For young men this is especially true. It's like a drug. When you are trapped in an economic and social situation that is all about powerlessness, having a gun, being part of a militia, eliciting fear in people and getting the rush of ego from being a protector at the same time is positively addictive. It's the same situation that happens in our own inner cities. Guns = respect. Guns = power.
As we were waiting on the Mundri airstrip for the plane to arrive that would take us out of Sudan, a young man walked down the road carrying an automatic weapon. It was one of the few instant fear reactions I had during my time there. This person had the power to kill us all ... and I had no idea if he was friend or foe, stable or not. All I knew is that he was young and very well armed.
Some of our Moru friends greeted him and it became clear that he was friend. So my heart rate slowed. But I was still struck by this image of this child soldier ... it typified in one picture so much of what I had been feeling about the effects of war on this country. I asked him if I could take his picture ... and he was more than happy to oblige. And as soon as he began to pose, I deeply regretted asking him.
He held the gun up like his most prized possession (which I'm sure it was) and posed for the camera. He knew the only reason I was taking his picture was that he had the gun. What was worse was the others around him knew it, too. I was reinforcing just what I hated ... that guns = respect. That guns = power.
I think about what we are doing in Iraq and Afghanistan ... and what we are doing and have done in so many places. You can argue back and forth whether it is justified or not. You can look at the geopolitics and all the rest. But in the end, I just think we don't realize what we're doing. It's been nearly 150 years since we had a war fought on our own land. We might have a grasp on the atrocities of war in terms of combatants, but we do not have the necessary deeply personal knowledge of what war does to societies, to hearts, to souls.
We do not have the wisdom that it is one thing to acheive an objective and to sign a peace agreement. It's much, much more and it takes much, much longer to stop the war inside, to heal the wounds that continue to fester, and to reach the peace that is more than just a cessation of hostilities, but is the living, breathing, growing peace of Christ ... a peace that passes understanding ... a peace that doesn't just halt the taking of life, but fosters new life and new possibilities.
Southern Sudan is officially at peace. But that is only the beginning.
|
Mike
at
4/11/2005 10:57:00 AM
A Slice of Tukal Life
During our stay in Lui, we stayed in "the compound" ... a grouping of "tukals" or small mud/thatch huts that also included a latrine/shower. People who had been previously told us that we were not encouraged to leave the compound and that we would always be followed (for our own safety) if we did.
I think this is one of the big outward signs of what a difference the peace makes. It didn't take long for us to realize that there was no problem leaving the compound and going "into town" (which is pretty much just walking along the road to the collection of buildings immediately adjacent to the Cathedral and compound.) But from the stories people told, you could also tell that, during the war, it was incredibly important to have an enclosed (by fencing) place where visitors could be kept relatively safe.
Tukals are what the Moru live in (the vast majority of people in Lui and Mundri diocese are Moru. There are also Dinka, and there is some conflict between the two tribes over Dinka cattle grazing on Moru land. But just about everyone we saw was Moru and spoke the Moru language ... which is spoken throughout southern Sudan and in parts of northern Zaire and Uganda). Because the compound was experiencing a growth spurt, we were able to see tukals at various stages of construction. Emily wants to put together a "how to build a tukal" children's book! So ... for the uninitiated, here are the various stages of tukal construction: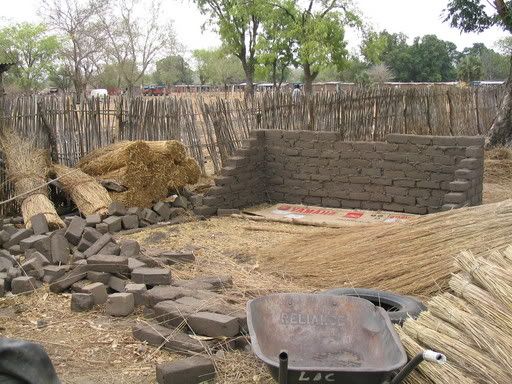 The walls are made from clay bricks that are fired in Lui. You can also see the big bundles of the grass that grows everywhere that have been collected for the roof.
Once the walls are built and the doors and windows are framed, the construction of the roof begins. The framework is long bamboo poles that are lashed together .
The grass is then placed on and lashed to the bamboo in layers, which creates an amazingly watertight roof.
Then you have the finished product. This one was the central meeting place of the compound.
A couple other things about the tukals. First of all, the Moru people are not a tall people (especially when compared with the Dinka, who are
very
tall ... but even compared to what we in the West consider average height). It didn't take us long to notice that the tukals ... particularly the entrances ... were built at Moru height. It also didn't take me long to develop "tukal back" ... a condition occuring when you don't bend down far enough when entering or exiting a tukal and the end of the grass roof exfoliates your back!
At night, you learn something else ... that termites love the tukals, too. Not so much in ours, but in Emily and Lisa's tukal they reported both a crunching sound at night and then were continually covered in sawdust as the termites ate away at the bamboo framing. Ventilation in the tukals was a problem (again, by Western standards). The clay brick walls hold in heat really well (kind of like a clay oven), and the windows were small.
That said, these are great places to take shelter from the intense sun and are (we were told) almost total protection from the heavy downpours during the rainy season ... and they are literally made from what the surrounding environment provides.
Here is Reynolds and me in front of our tukal.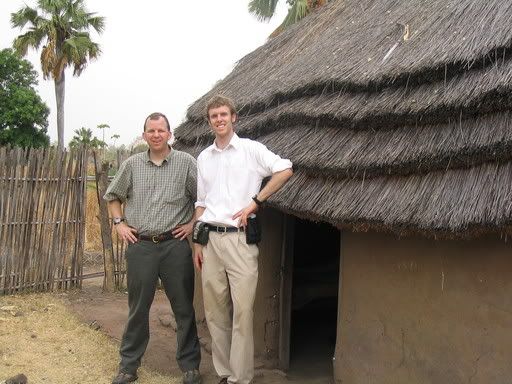 Inside each tukal were 2-3 beds. Even though there were no mosquitos the whole time we were there, I still kept the mosquito netting up -- mostly for the feeling of security. Also because what we did see at night were large spiders (harmless, we were told) that were attracted to the latern light. It also kept off some of the dust from munching termites.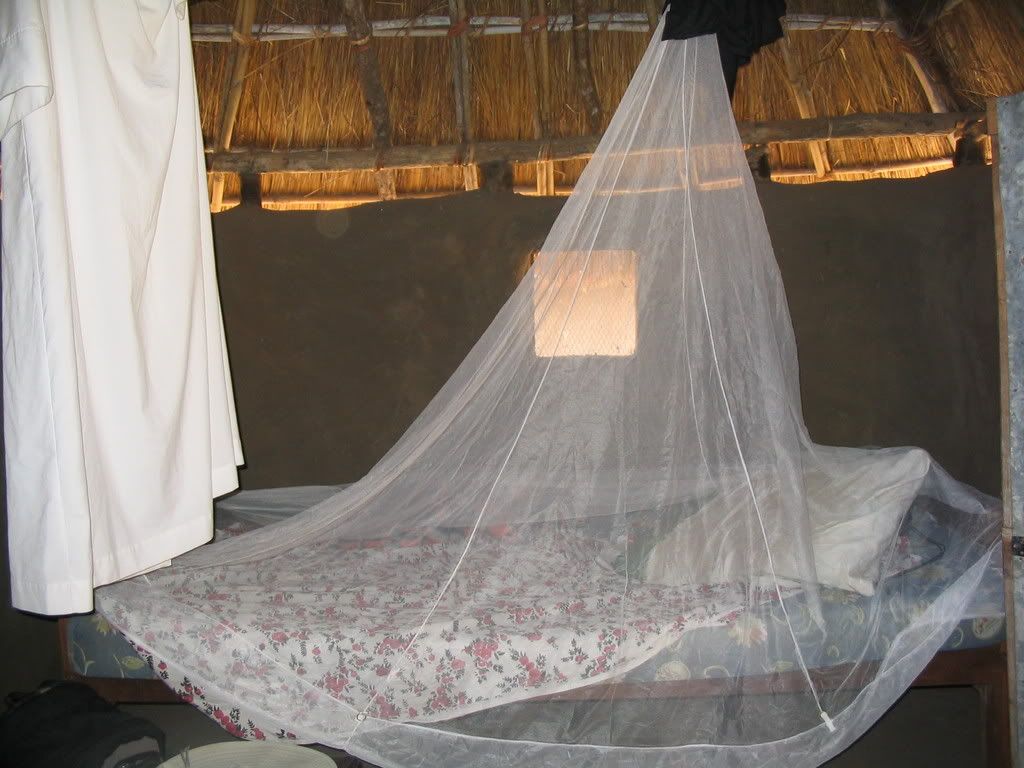 The other building in the compound was the shower/latrine.
This building didn't have a thatched roof but one made of sheets of zinc that were brought in from Uganda, and the building had a poured concrete foundation with holes in the floor of the two latrine stalls (the two stalls in the middle).
Using the shower involved filling a pail with water and then using a cup to pour it over your body. The water drained out the back of the shower stall.
The water was brought from the borewell in big barrels using the diocesan truck and heated in a barrel over a fire. So ... if you caught it at the right time, you could have a hot shower. Mostly, though, it was so hot you didn't want one and waited until the water cooled down some.
Again, it was all very practical and worked incredibly well. But you had to change your mindset. And not just in terms of going to the bathroom in a latrine or taking a shower with a cup. You had to adjust to the reality that water was precious. The average American family uses 6000 gallons of water a month. We're used to having it come out of faucets at will and treat it like an infinite resource (which, even for us, it's not).
This is another area where growing up in Tucson really helped. One of the things I love about Tucson is that it's a community that realizes it's in the desert and tries to live that way. Growing up, I learned to take really short showers. You weren't served water in a restaurant unless you asked for it. You were asked not to water your yard during peak hours and were encouraged to use desert landscaping.
As we saw flying in, water in this area is literally life. People carry it from miles around to do their cooking and cleaning. And yet water is also the breeding ground for the insects that carry malaria and sleeping sickness (which is why they didn't want us going near the river). We knew we had to drink at least 3-4 liters of water a day just to replace what we were sweating out and avoid dehydration.
When I arrived in Ghana the first night James Sarpei greeted me with the traditional greeting ... a glass of water, because, he said, "water is life". Our time in Lui drove that home in powerful ways. It wasn't so much getting used to not having indoor plumbing ... it was developing gratitude for the water that we had, and living in a way where stewardship of water was an important part of our lives ... because we recognized that water came from a well that would one day run dry, and that even getting it to us involved much more labor than just turning on a faucet.
Next, we head out into the bush for confirmation services! Thanks for reading.
|
Mike
at
4/10/2005 06:51:00 AM