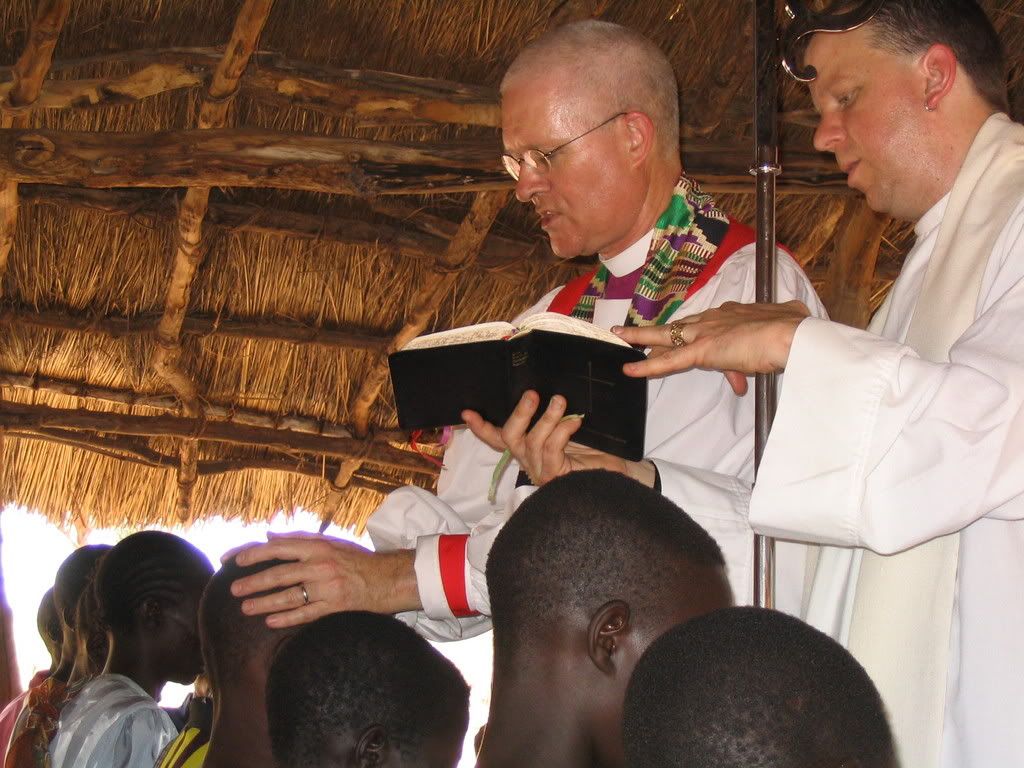 Into the bush
On Thursday we woke up around 6:30 a.m. Or, rather, we
got
up
at 6:30 ... it turns out I was not the only one who did not have a restful night. We had a light breakfast and at 7:30, our chariot arrived ... the Toyota Caravan which served both as the ambulance for the hospital and the transport for the bishop when he was traveling in a group (alone, he travels the large distances in his diocese by bicycle).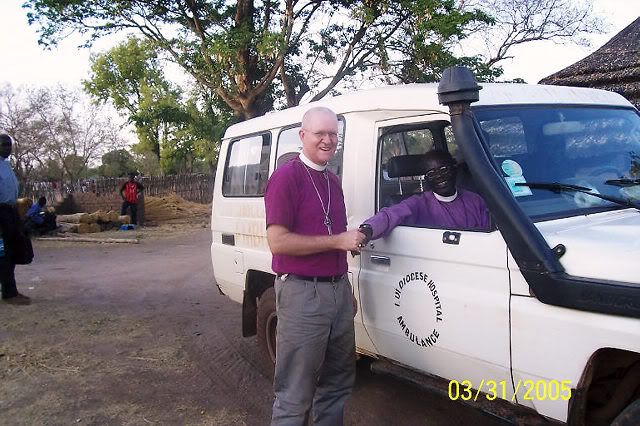 Bishop Bullen, Jeffries, the Cathedral provost and two others (one of whom, a local priest, was our "pilot" for the day ... what Bishop Bullen called his driver because the state of the roads made it seem more like flying than driving.) were making the trip with us. Bishop Smith got into the front seat (being "your lordship" has its privileges), and the rest of us sardined onto benches in the back. This day, that meant, Emily, Reynolds, Lisa and me. The deacons -- Peggy and Susan -- were staying behind to meet with a large crop of transitional deacons in the diocese and also with the Mother's Union (which serves the same function our Episcopal Church Women served in the time before women had access to other lay and ordained leadership in the church). The tight packing in the back ended up providing much needed human cushioning for the road ahead.
After driving for about 30-45 minutes on the main road, we made a sharp left onto what looked like a poorly-cut driveway. I thought we had arrived. Bishop Bullen informed us that we were just moving onto a different road. I asked him what the name of this new road was. He smiled playfully and said "we call it the good road" ... intimating that it was good by comparison to other roads.
Now, when we loaded up at the compound that morning, I thought I knew what we were in for. I had traveled roads with Emmanuel and Robin in Ghana that were much more pothole than road. But I had never seen anything like the "good road." It started off just looking like a path cut by sporadic vehicle traffic through tall grass (which, of course, is what it was ... as you can sort of make out through the front window of the truck).
Then it got rocky ... really rocky. There were times looking through the front window where I honestly couldn't tell you what was road and what wasn't. There were dips we went into and hills we went up where we literally had to all lean in one direction so the vehicle wouldn't roll. If you look through the front window here, you can kind of get an idea.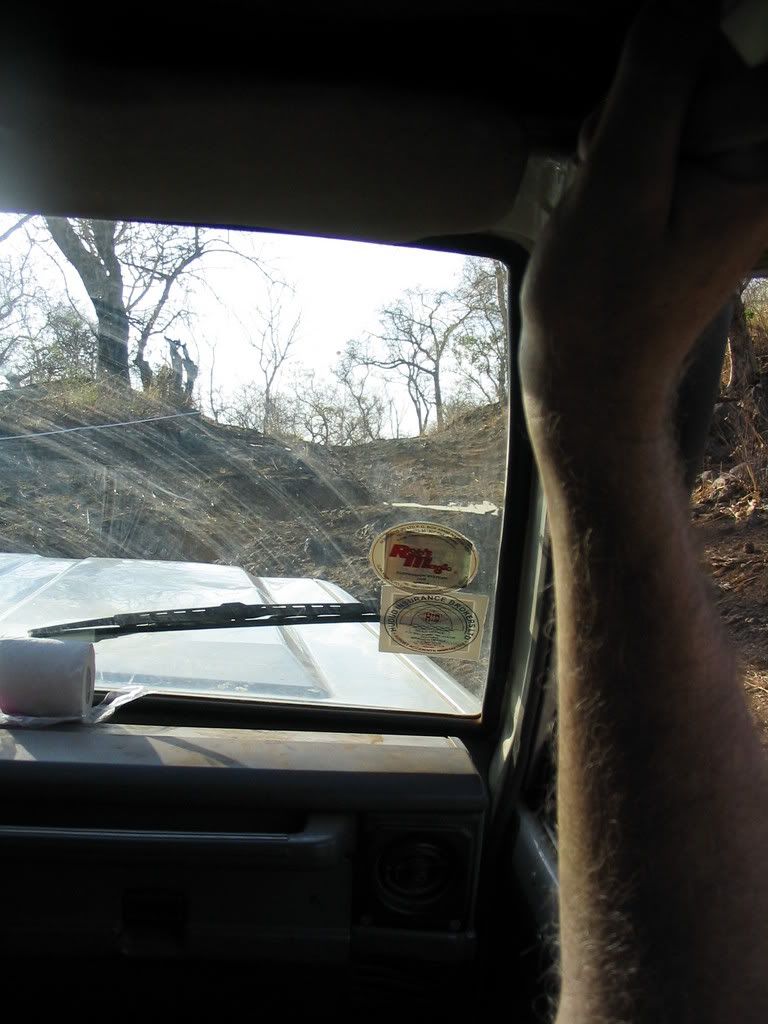 Now, this is not just complaining about the roads from a guy who is used to the American interstate system. For us on this one trip it was a minor inconvenience and even makes good story to tell back home. But for the people who live here, this is serious business.
Roads are the only way to get around. There is no rail. There is no water. There are few airstrips, and those need roads to connect them to anything. If you are going to get people and goods from anywhere to anywhere, you need roads.
There's a reason they call this area "the bush" ... it is isolated and overgrown and very difficult to get to. Most people travel on foot. Some travel on bicycle. On Thursday, we saw only two other motor vehicles the whole day ... and both of those were Doctors Without Borders trucks.
Again, it's easy to romanticize about keeping these areas untouched by development ... but that also means perpetuating inefficient systems of agricultre that are incredibly vulnerable to drought and tired soil, high infant and child mortality, high mortality rates from malaria, etc. We need development ... development that is sustainable and that doesn't do violence to culture ... but we need development and for that to happen, we need roads.
We visited two communities, with the principal event at each visit being a confirmation service where Bishop Smith preached and confirmed. I served as the bishop's chaplain (in the absence of deacons). When we arrived at each place, we were greeted by throngs of people who, shouting and singing and waving banners and branches, chased after and escorted the truck to its parking place under a tree.
When we piled out of the back of the truck, the people gathered around and we were given an official greeting by the priest of the community and Bishop Bullen gave an official greeting to the gathered people.
We were then escorted into a meeting tukal, where someone came with water and a basin and washed our hands.
After resting for a bit (and drinking LOTS of bottled water), we vested and walked over to the church building. The best estimates we have is that it was between 107 and 110 degrees F ... so the vestments weren't the most comfortable things in the world. I kept thinking of a story Vin Scully used to tell about Sandy Koufax pitching on a hot day at Dodger Stadium and losing 8 pounds of water weight that afternoon and having his shoes squish when he walked.
The services were amazing. Unlike Ghana, where the liturgy and music was very British, here it had a definite indigenous feel to it ... with the exception of "Onward Christian Soliders," which I think we heard at every stop.
Over the two days, the bishop confirmed more than 150 people ... most of them in their teens and 20s. The music was incredible ... beautifully and passionately sung. It was liturgy so inspirational and passionate that you forgot how hot it was ... and that was no mean feat!
After the confirmations, they had an offertory, where someone stood up in front with a basket and people brought forward whatever they had ... small bits of money, grain, a pen. And they did it with dancing, with grace and with smiles ... and you knew they were giving not out of their abundance but out of their poverty.
That theme continued after the service when we went back to the meeting tukal. There we were greeted with a feast ... chicken, goat, a huge loaf made from sorghum, a breadlike food called kissera, eggs (probably don't want to eat those ... not always hard-boiled -- as Reynolds unfortunately found out! I'll spare you - mostly him - that picture.) Amazing tea made from hibiscus. And what made it so incredible is you knew that this was coming from people who were looking at the skies wondering when -- or even if -- the rains would come and with no kind of assurance that they would have enough to feed themselves. And yet they fed us like royalty.
I had many of the same conflicting emotions around this that I had in Ghana in similar circumstances. Especially with the fact that we were white and they were all black and they were basically waiting on us hand and foot. The guilt you have to deal with is considerable. But in the end, you realize it really isn't about you. It's about an ethic of welcoming the stranger combined with a belief that as people who come bearing the Gospel we are bringing something of great value -- and it is that which is being honored.
Jesus said about caring for the stranger, the sick, the prisoner ... as you have done to the least of these you have done to me. Well, we certainly weren't an underprivileged class of stranger, but you got the unmistakable sense that we were being treated as Christ all the same ... and in their faces we were able to see Christ's face brilliantly and beautifully.
It was a long day. A REALLY long day. And when we arrived home, we were hot, tired and covered with the red soil of the land from the dusty "road". (check out the difference in the arms of Emily, who went with us, and Susan, who stayed home).
But more than that, we were grateful ... and more than a little dazed. Frankly, I'm not used to encountering this much love. I'm not used to this much unabashed celebration and praise of God. I'm not used to seeing such beauty ... standing side by side with, deeply wrapped up in and breaking out through such poverty.
Watching Bishop Bullen with his people was incredible. It gave me a sense of bishop as shepherd in a new way ... a way that approaches more what I think the early church had in mind with that image. One of the huge spiritual challenges of our wealth is that it's easy for us to convince ourselves that we don't need each other, we don't need the church and we don't need God.
That is not an issue with the people we saw. They knew that they needed each other, the church and God. And their bishop was their shepherd, their caretaker. The love you saw in his eyes for them and the trust you saw in their eyes for him ... there's no other way to put it except to say that you just knew that God would have them be together. There was a strength in that relationship that I would never bet against.
Also, on the way back that evening, we saw a sign of something amazing that was to come. We passed person after person and groups of people headed toward Lui carrying what looked like several days provisions with them.
They were coming to Lui for the funeral Saturday of Mama Jarusa, the wife of Bishop Bullen. People were traveling 75+ miles on foot over three days and more to be present with him and with each other. When Bishop Bullen told us that's what the people were coming for, we all fell silent ... partly out of respect for Mama Jarusa, but partly in awe of the gravity of what was to come on Saturday -- a gathering that was so important that people were willing to walk for three days just to get to it.
More on that tomorrow.
|
Mike
at
4/13/2005 09:45:00 AM