From the "if Jesus saw this, he'd be rolling in his grave ... no, wait a minute ... well, you know what i mean" department: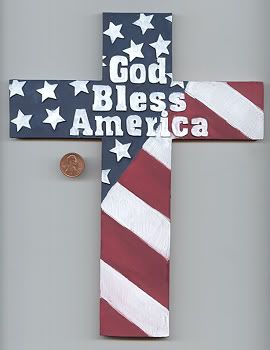 It's too easy a target to go into the litany of why this is ridiculous, ironic and just plain offensive to anyone with the remotest grasp of the Gospel.
But forgetting for a second what this must look like to Muslims, Jews, Hindus, Sikhs and any number of other American citizens ... what if we really did have a nation that based its actions on the theology of the cross, the theology of humanity being called to imitate Christ in giving up self for the life of the world.
Would we have a foreign policy that embraces pre-emptive first-strikes. (Hey, Jesus said if someone strikes you on one cheek to turn the other ... he never said anything about don't pop the guy first to begin with!) Would we have millions of people without health care? Would we have an election system that disenfranchises the poor, the homeless and ethnic minorities?
Someone should tell whomever is making this that if you're going to appropriate the cross as a national symbol, there's a little baggage that goes with it.
Of course, maybe I'm misinterpreting this. Maybe they're taking this from a pro-Roman standpoint. Maybe this is an argument for a return to the
pax Romana
where troublemakers and dissidents were publicly executed to keep the people in line.
Hmmm ... the scary thing is that's actually a lot less of stretch.
|
Mike
at
10/14/2004 02:22:00 PM