Flying into Sudan
Our trip to Kenya was pretty uneventful. We left St. Louis on Monday, March 28 and our first stop was Detroit, where we picked up the Rev. Peggy Harris, a deacon from Bishop Smith's former parish (
St. Andrew's, Des Moines, IA
). Peggy is the only one of our group who had been to Sudan before ... she went with Rob Price, Sarah Stanage, Tammy King, Steve Davis and Debbie Smith two years ago. Except for Bishop Smith and Susan Naylor (who had met her once, I think), none of us had ever met Peggy. She was an amazing member of the team. You would think that she had lived in Sudan for years, not just visited there for two weeks a couple years ago. She was a rock in all the best senses of that word ... and insightful ... and a lot of fun, too.
With a brief stopover in Amsterdam (where we said morning prayer at the gate waiting for our next flight and ran into some other Episcopal-affiliated missionaries who were working in East Africa), we headed to Nairobi and landed there Tuesday night (about 22 hours after we left St. Louis). We were met at the airport by Ambrose, who works for the Diocese of Lui in their Nairobi office. Because of the war, the Diocese of Lui has had an office in Nairobi ... partly because it is a secure location but mostly because there is basically no infrastructure in Lui -- only one main road, no electricity (except for a couple generators that some other NGOs have), no mail service (except whatever comes in on flights to the airstrip) and, obviously, no email.
Ambrose, Canon Kenneth (also of D of L) and some friends met us and took us to the Methodist Guest House, where we spent our first night. The Guest House was extraordinarily nice -- showers with hot water heaters, a lovely dining room, nice beds ... what would be considered a poor motel by American standards, by developing world standards was a veritable palace. We immediately began consuming what would be the first of gallons of bottled water!
The one adventure that night was Reynolds leaving one of his bags at the airport ... which Ambrose took him back to retrieve (without incident, fortunately). After a brief dinner, we retired ... but not before Emily and I set out on a trek all over the guest house looking for a way to the swimming pool area -- the one open space that looked like it would suffice to make a satellite phone call. It worked! We got ahold of Emily's mom, who (after a very tired Emily originally said "we've arrived in Nigeria") was glad to hear we had indeed arrived safely in Nairobi, began the phone tree that let everyone know we were safe and sound.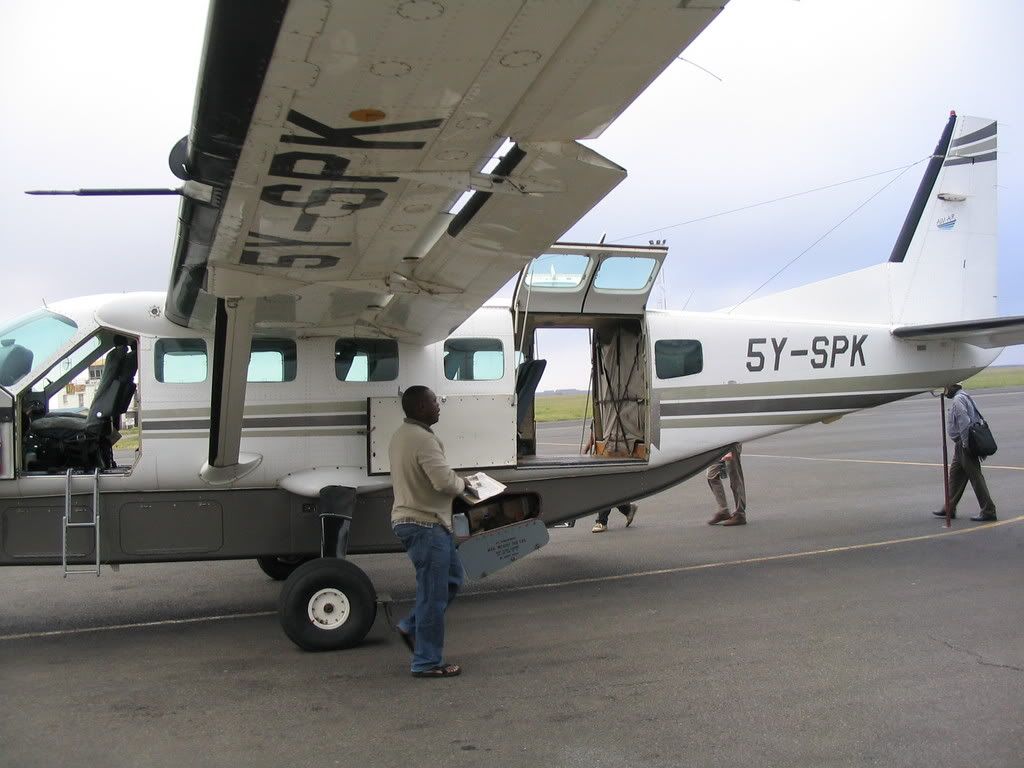 We got up early the next morning and headed off to Wanaosafiri airport where we boarded this Caravan plane owned by
Samaritan's Purse
. SP is a nonprofit founded by Billy Graham's son which does medical relief work around the developing world. They operate a hospital in Lui that is pretty much the best medical facility in all Southern Sudan and then some (they even bring some patients there from Khartoum because of some of the equipment they have there).
SP is one of the few people who fly in and out of Mundri ... the airstrip that serves Lui ... so whenever we send groups to Lui, we hire their plane. The pilots are ubercompetent bush pilots ... and the one we had this morning (Dan) was talkative and had lots of stories and info for whomever was sitting in the co-pilot's seat. For the first leg of the trip, that was Lisa.
If I had to pick one part of the whole trip that made me nervous going in, it would definitely be the plane flight. I've never flown on a small plane before and just the idea of bouncing up and down in this one (and landing on something unpaved) made me a little jumpy. Pretty much that all vanished after takeoff ... both because it just felt fine and because the view was so captivating. Take for example this: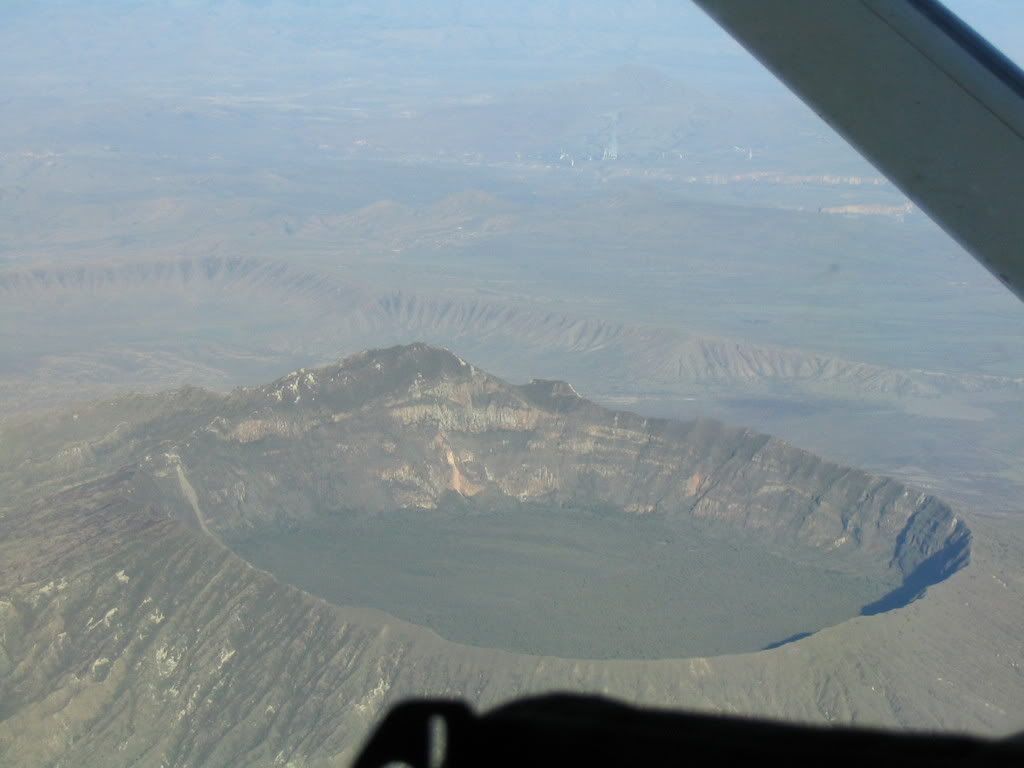 which was described to us as a giant meteor crater. There were beautiful mountains and lakes everywhere ... but as we continued north it all turned to desert, fissured by long fingers of rivers and streams and the vegetation the sprung up around them.
After about a three-hour flight, we landed in a small airport in a town called Lokichokio on the Kenya/Sudan border (on the Kenya side).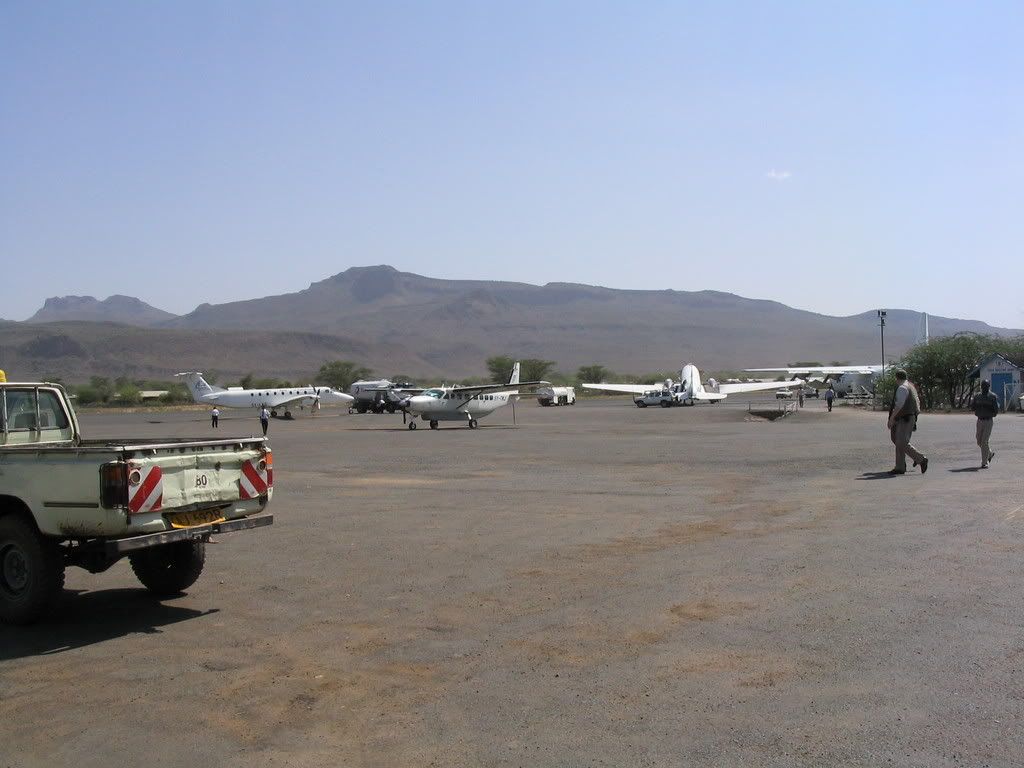 It looked like a primary service spot for UN planes as well as some other small craft like ours. This is where we got our first taste of the intense heat ... and I realized some of my best preparation for this trip wasn't going to be my six weeks in Ghana but my summers growing up in the blast furnace of Tucson, AZ!
After a brief stopoff, we headed on board again and took off (watching goats scatter as we rose up in the air) -- next stop, Sudan!
We must have crossed the border almost immediately, but it was another couple hours before Mundri airstrip came into sight. Before that, though Dan pointed out a beautiful sight ... the Nile river ... below us.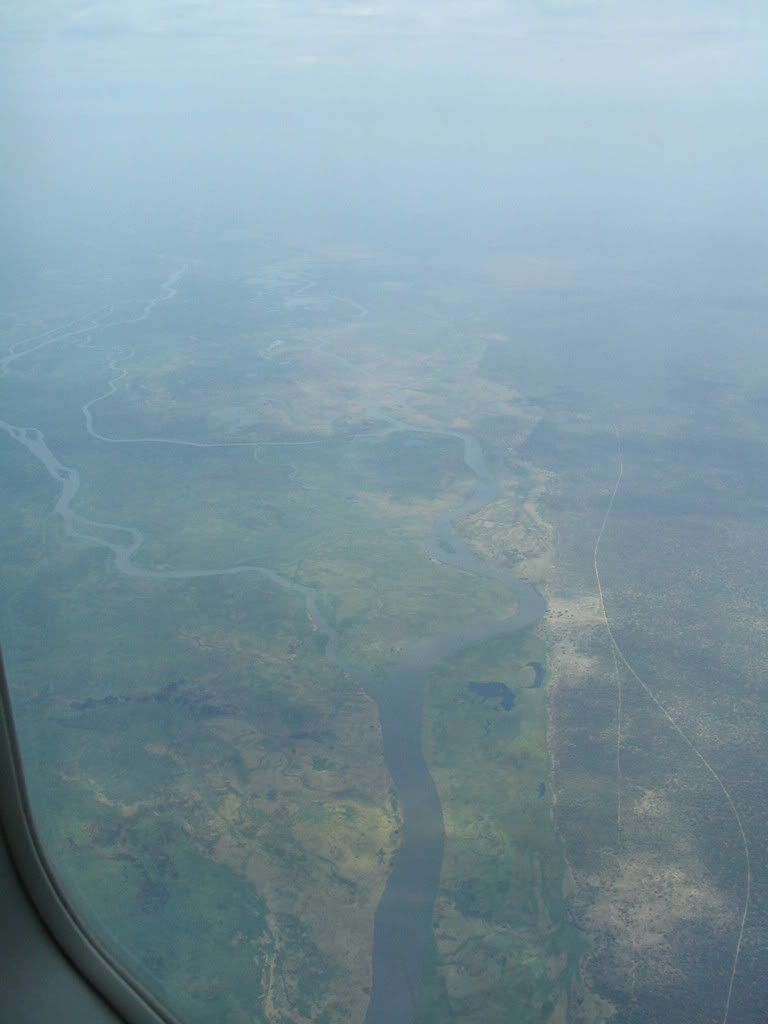 What was most amazing about it was how green it was around the river and its tributaries compared with the surrounding desert. DUH! Of course! You figure that ... but until I saw the contrast from the air, I never realized how much that river really was (and is) life to the people who live there.
Mundri airstrip came into sight ... a brown strip on the ground below us. But, funny, there was what looked like a huge picture of a plane right at the base of the airstrip. That's great, I thought ... what a great way to mark it! As we came into our approach, though, I realized (again ... DUH!) that it wasn't a marker but an actual plane that was still sitting on the runway. Dan made a nice little landing over it and we taxied to a stop.
While the plane was still in the air, we could see the people running for the airstrip. Later, they told us that flights came into the airstrip about once a week (though it had been more frequently recently). We also saw a couple trucks, which we assumed (hoped!) were friends come to greet us. We weren't disappointed.
Before we could even step off the plane, it was mobbed by a crowd of people -- many of them children -- from the surrounding area, gathering to see what was up.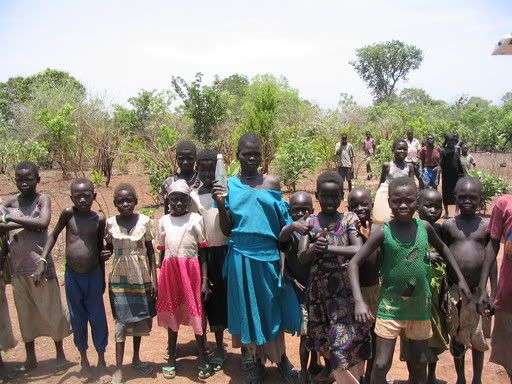 We were quickly loaded onto two trucks ... one for us and one for our baggage ... and spirited down the only road towards Lui. It was about a 20 minute drive and the road was pretty good by dirt-road standards (we'd learn how TRULY good it was later). Like I experienced in Ghana, driving in Sudan was as much by feel as anything else. Kind of the M*A*S*H* theory of "there's got to be a road somewhere amongst these potholes."
The road itself is a great symbol of the rebuilding and development work that needs to be done. One main road ... and that one has its navigation challenges. Fairly recently it was divested of all its landmines (and periodically you would pass the wreckage of some vehicle that had discovered one the hard way), and at least one spot on the way to Lui we maneuvered around what was pretty unmistakably a crater from either an exploding mine or a dropped bomb.
The road is Lui's connection with the outside world ... and with much of the surrounding area. If any serious develpment is going to happen in the area, one of the first things that has to happen is the road needs to be improved. Without it, there is no way for trade to come here and no way for the people to get beyond a subsistence economy and always be at the whim of the rains (or lack thereof). Someone cut this road at one point (that fact alone boggles my mind in terms of how they did it!) ... but it needs to be re-graded and, really, it needs to be paved to attract the kind of economic development the people need here.
The truth is that we can romanticize all we want about leaving communities untouched by the modern world ... until you realize that what comes with that in places like this is low life expectancy, malnutrition, deaths from treatable and preventable diseases, low-food yields and an under-five mortality rate that, were it happening in, say, Seattle, would be considered a worldwide state of emergency.
We joked about the road. Bishop Bullen joked about the road. But the truth is the road is a lifeline ... and it needs to be improved and added to.
When we got into Lui, we were taken to the Cathedral and adjoining compound (more pictures and descriptions of that tomorrow) and given our first of what would be many enthusiastic and song-filled greetings. Our truck was surrounded and escorted into the Cathedral area and then we were escorted by parade with song into the Cathedral where we were given seats up front and officially welcomed by the people in an overwhelming and deeply moving fashion.
Jeffries (my apologies if I'm misspelling any names ... I haven't gotten the great notes that Reynolds, Susan and Lisa took yet!), who is the diocesan secretary, greeted us on behalf of the Bishop (who was attending to details for his wife's funeral, which was to be Saturday) ... and informed Bishop Smith that, while he was in Sudan, he would be addressed as "your Lordship" according to local custom. (my job is now in jeopardy for sharing this bit of information in a format where Heidi Clark can get ahold of it!)
We were then taken to the compound where we would be living for the next 5 days and given more water (!) and a wonderful meal of rice and chicken. We were also assigned our tukals (mud huts with thatched roofs). The bishop got his own tukal in the center of the compound (of course!). Emily and Lisa got another (we later found out that it was the place in previous years where they would herd the chickens before choosing one to become dinner). The deacons, Peggy and Susan, got another, and Reynolds and I got the other. More on tukals later (that's a whole other entry!).
At 3:30, Emily, Reynolds, Lisa and I went back to the Cathedral to talk with the "youth" -- folk from age 18 - 30.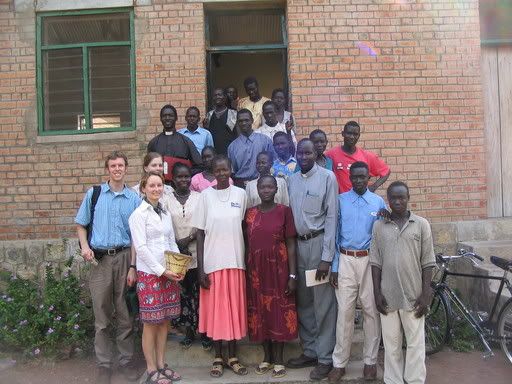 We were there for about 90 minutes and spent most of the time listening to them. They had come from all over the diocese and its six archdeaconaries (many, many people were already in Lui or were on their way for the funeral). They talked about the activities of their youth groups ... song practices, leading services, fellowship, Bible studies, evangelism and worship, hosting celebration days on October 10 every year. Also economic activities like cultivation of sorghum, cassava, etc.; bricklaying and handicrafts (they gave us some lovely baskets) to raise funds for the church.
They also talked about their major challenges ... and what came through strongly in this meeting and in many other meetings was a deep need for education. Vocational training is what they really wanted. They wanted a place they could go to learn skills to participate in a growing economy. They also talked about need of transport (when you have to walk everywhere, a bicycle is like gold), instruments, tools, etc.
At 5 pm, we went over to Bishop Bullen's tukal where he greeted us briefly and warmly. We talked about the schedule for the week -- Bishop Smith would be doing four confirmation services in different congregations (two on Thursday, two on Friday), and preaching at the funeral on Saturday. Bishop Bullen said that Bishop Smith should appoint one of his team to preach at the Cathedral on Sunday, to which he pointed to me ... which made me very glad.
Bishop Bullen is an amazing man. Much more on him later.
The rest of the evening was pretty much getting settled. We introduced ourselves to the latrine and cup shower (again, more on life in the compound tomorrow), were fed an amazingly wonderful dinner by laternlight (the amount and quality of the food was especially moving and amazing because you knew these were not people who had much to spare ... especially since the rains hadn't started yet and they were beginning to get nervous about that), debriefed about the day's events, said compline and headed off to bed.
I imagine it was a combination of the culture shock, the heat, the jet lag and just about everything else that comes with spending your first night in a tukal in Southern Sudan ... but I swear I didn't sleep one minute that night. Reynolds says that I did ... that I slept for at least an hour between 11 and midnight. All I know is that I heard every hourly beep on my cheap $10 Target watch I'd bought for the trip. By the time I knew I needed help getting to sleep, I didn't want to take the sleep aid (cough medicene with a codeine derrivative) that I'd brought with me for fear it would make me groggy the next day.
Looking back, it was actually a good experience. One of the most valuable experiences for me spiritually about traveling in the developing world is that it makes me realize how few times in my life I truly put my life in God's hands. Here in America, it is so easy for me to rest in my own self-sufficiency and the many, many safety nets which come from having enough money in this culture. Lying there in what felt like the middle of absolute nowhere, I knew that if I was going to make it through what was really a very short visit ... not even to mention the first night ... it would be by God's providence.
So I prayed a lot through that night and even though I couldn't sleep, I rested. And it was OK.
Speaking of sleep, I don't think I'll have trouble doing that tonight. More tomorrow.
|
Mike
at
4/08/2005 10:50:00 PM