Amber and Colin's Wedding!
It's a week and a half late, but here are my pictures from Amber and Colin's wedding at St. Gregory of Nyssa in San Francisco.
For the uninitatied, Amber Stancliffe was one of our first ECM students. She just finished her Master's of Divinity at CDSP and (hopefully) will be ordained a deacon soon. Colin is a fantastic guy who works in the tech sector in SF ... and he's also the brother of ECM alum Noah Evans -- who is now an Episcopal priest and who assisted at the service.
Other than my own, it was easilly the most fun I've ever had at a wedding. And bar none it was the best, most carefully crafted wedding liturgy I've ever been a part of. A wonderful celebration. It was perfect.
Also part of the crew, along with Amber and Noah, were two ECM alum bridesmaids -- Sarah Stanage and Christine Stanley ... and also Emily Mellott, one of Amber's CDSP classmates who is now working in St. Louis at St. Peter's Church in Ladue.
So here are the pics: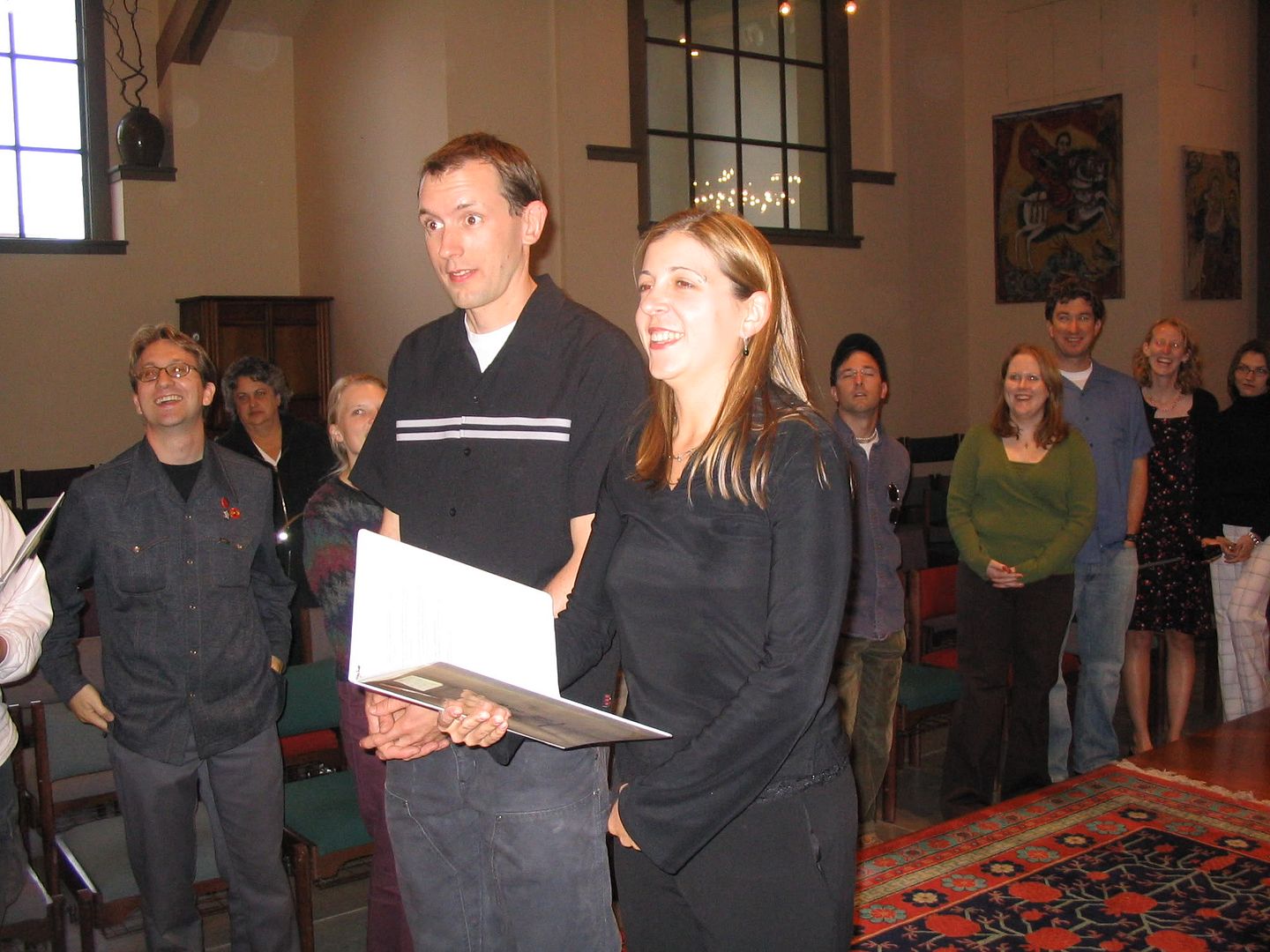 This is from the rehearsal. Obviously, that's Amber and Colin up front, but you can also see Sarah (in green) and Christine (two behind Sarah). The setup of St. Gregorys is that the liturgy of the Word takes place in this space and then the congregation does a simple communal dance step to get into the next room where Eucharist is. The congregation is seated arouund the area between the presider's chair and the platform from where scripture is read.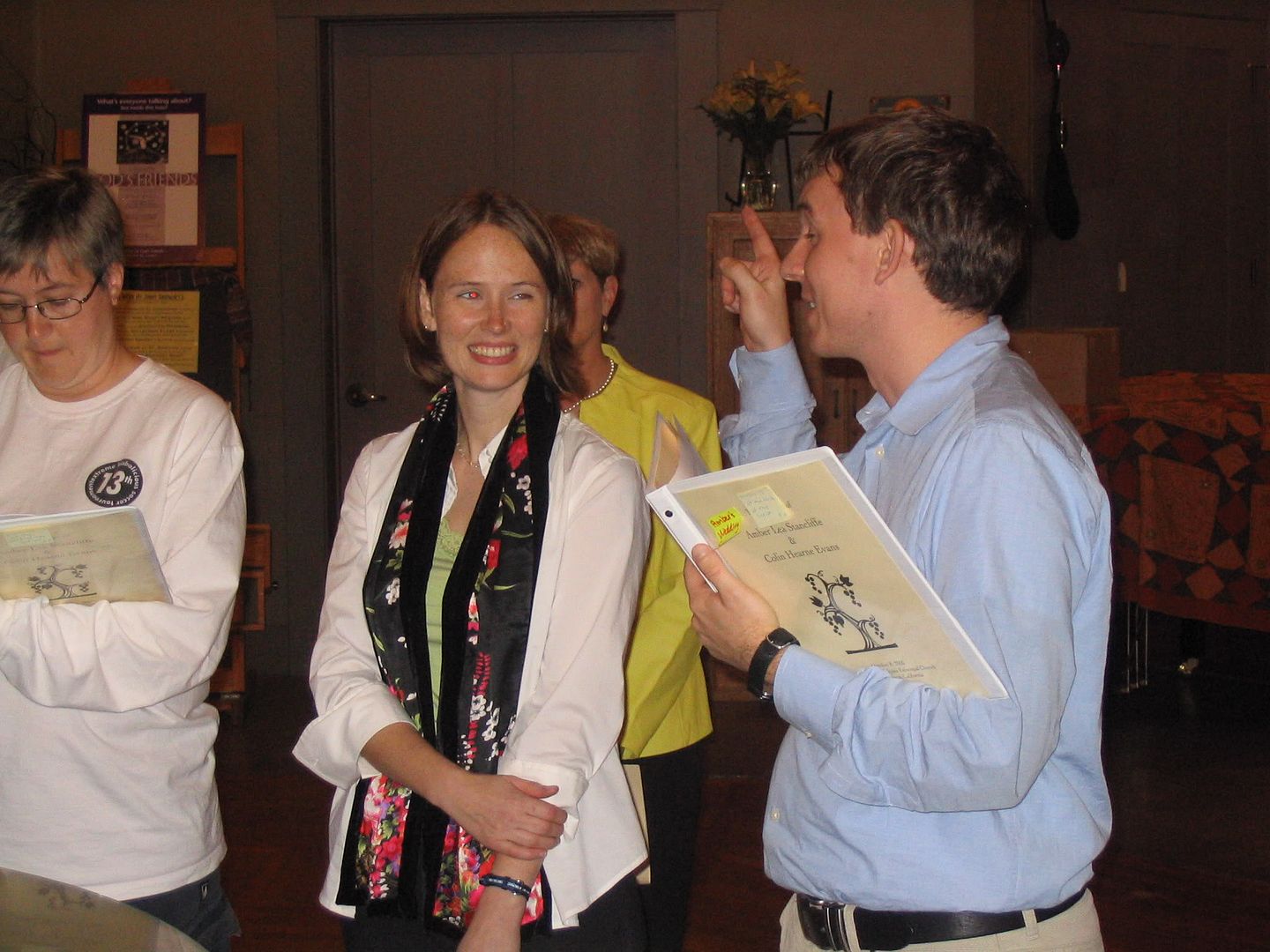 That's Noah in the blue shirt saying something typically wry and his wife, Sara Irwin (also an Episcopal priest ... the place was lousy with clergy) looking on. Sara and Noah met when both were doing the Micah Project internship in Boston after graduation. They were ordained priest at the same service this past January and when it came time for them to be vested, they vested each other. It was wonderful.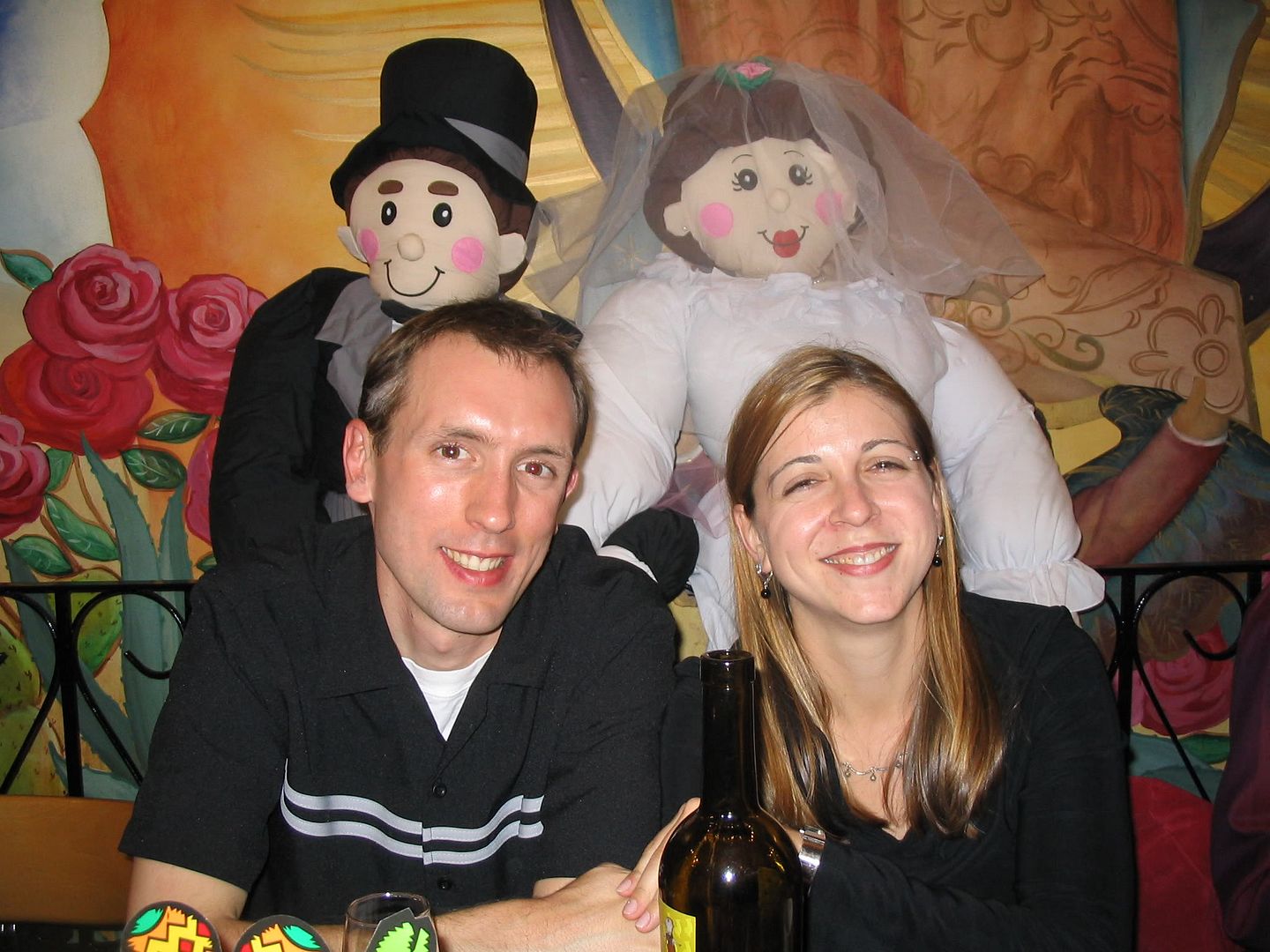 The rehearsal dinner was at this great Mexican cafeteria in the mission district -- with tons of people (looked like most of them were Amber's HUGE extended family). It's also a Stancliffe family tradition to cart these life-sized stuffed bride and groom figures to every family wedding. Amber said this photo should be their Christmas card this year. The dinner was great. I got to sit next to Sarah and catch up with her life and also have some great conversations with Donald Schell, rector of St. Gregory's.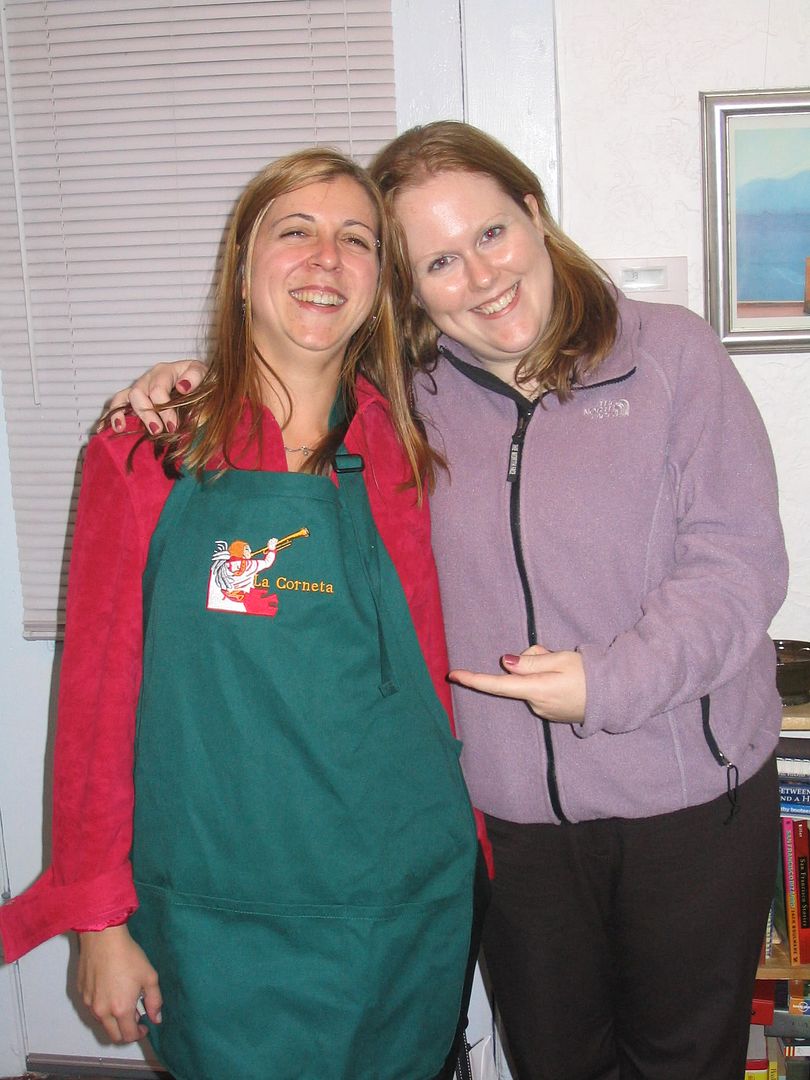 The staff at the restaurant gave Amber this fashionable apron as a memento of the rehearsal dinner. Most of the younger crowd headed back to Colin and Amber's place to hang out after the dinner. Me not being part of that crowd but still wanting to hang out joined them! I can't tell you how great it was to be around these people that I had spent four years with while they were in college. It was like old times, but it was so much better because they have each even more become these amazing people that I am so honored and proud to know. Looking at this picture, I know I have a picture somewhere of Amber and Sarah standing in the same pose right before an ECM Christmas party they threw together at Amber's apartment. Should do a before and after.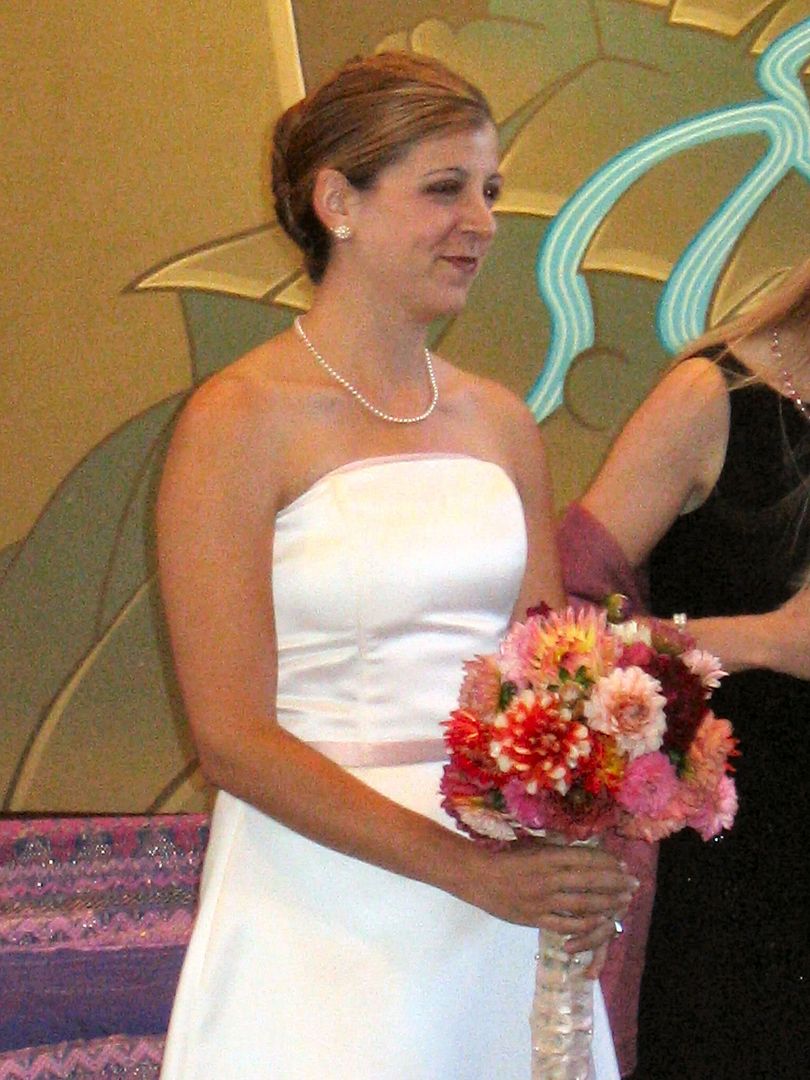 Here's the bride. I know it's cliche, but there's no other way to say it. Amber was positively glowing throughout the day. It wasn't just that she looked great ... she was just so happy -- as was Colin, as was simply everyone. It was such a relaxed and joyful affair, with everyone really there to celebrate. But it was more than just having fun. Amber and Colin have taken their preparation for marriage more seriously than any couple I've ever known ... and it really showed. I've never seen a couple more truly together in the wedding experience. It was wonderful.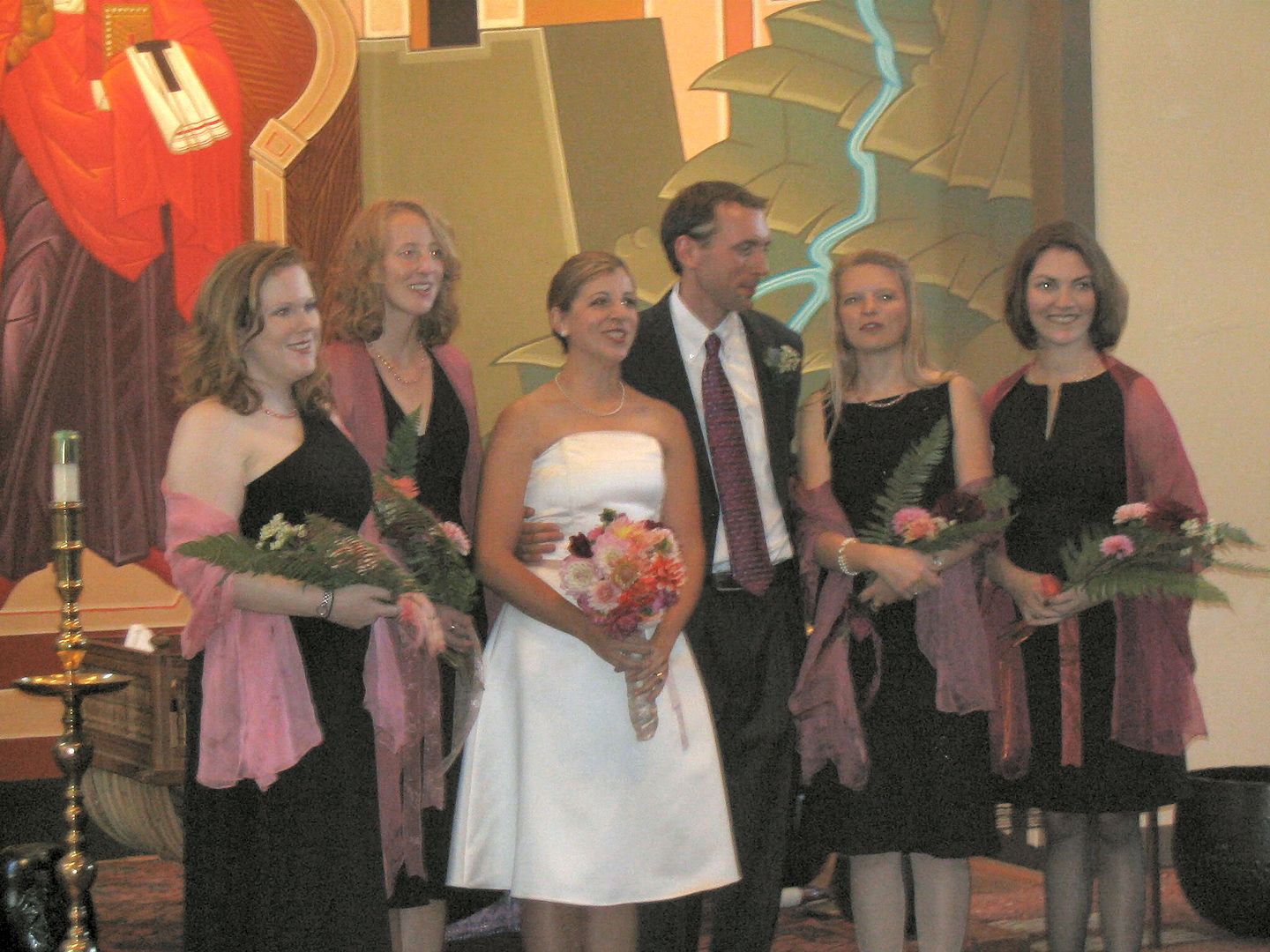 Here's the couple and the bridesmaids. On the left is Sarah Stanage, who was our first ECM intern and is now in her second year of med school at Louisville. Then there's Christine Stanley, who is doing amazing research at USF and is just wonderful and brilliant. On the other side of Amber and Colin is Emily Mellott, the transitional deacon who is here in St. Louis. Then on the end -- and I am SO embarrassed that I can't remember her name, ARRRRGHH -- is this amazing woman that Amber has known since middle school or before who works at NASA Mission Control in Houston and whose job is to help keep the international space station in the right orbit trajectory (Schroedter thought it was really cool that I met her).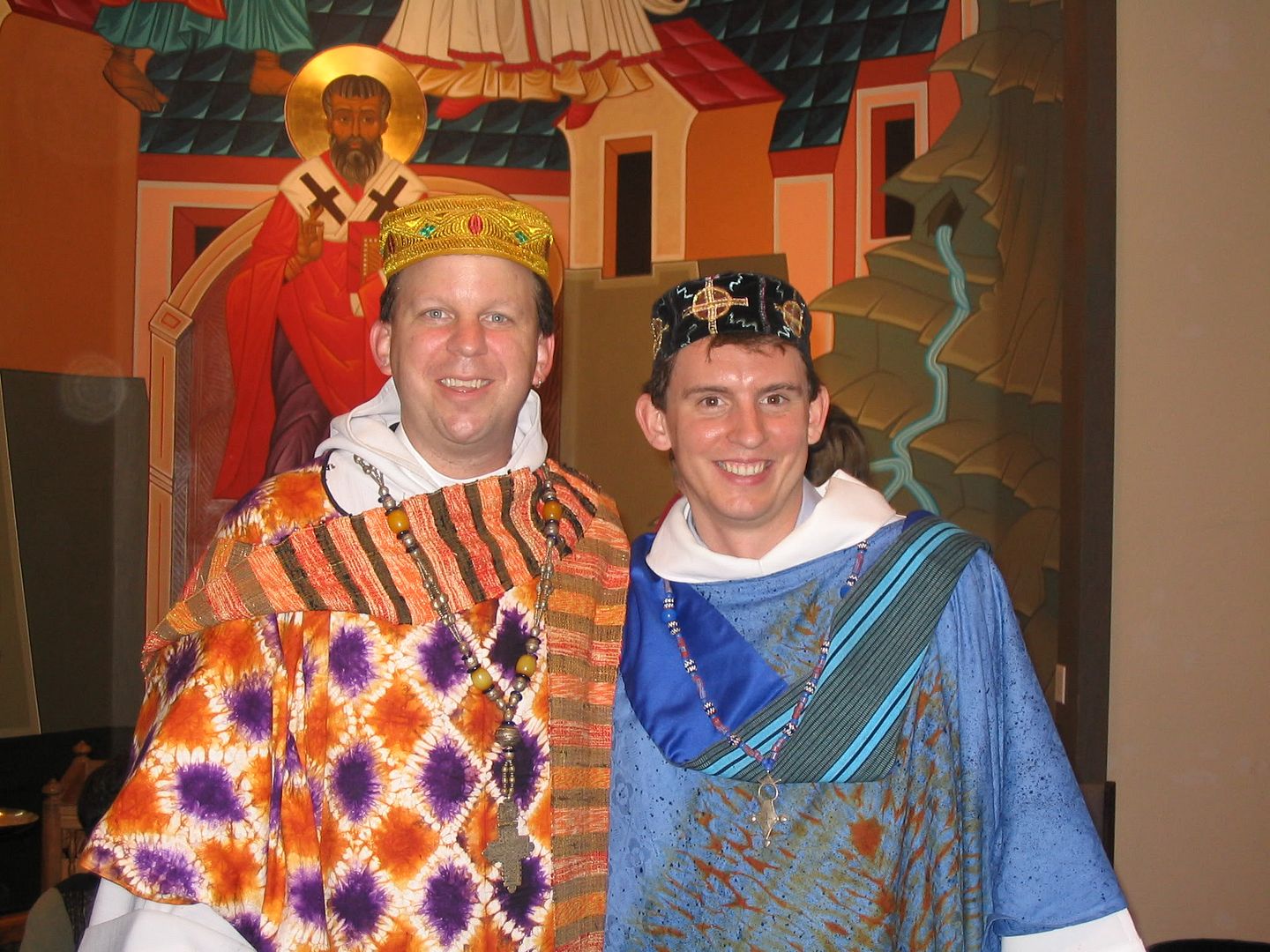 When you go to St. Gregory's, you enter the world of ancient worship, and the vestments are a big part of that. The vestry looks like a fabric store. I'm used to putting on a white alb and stole for a wedding. When I got there, Noah was already dressed to the nines in the blue and he said "they just told me to pick something out that I liked!" The only guideline was "be festive". Well, Robin always told me that one of the good things about being ordained was that it cut down on my fashion decisions ... so I had someone accessorize me. Going in, I wasn't going to wear the hat, but after you've got all the other stuff on, resistance becomes useless. My main fear was that Amber and Colin wouldn't be able to keep a straight face while I was preaching. Really, though it was just a wonderful part of the festivities.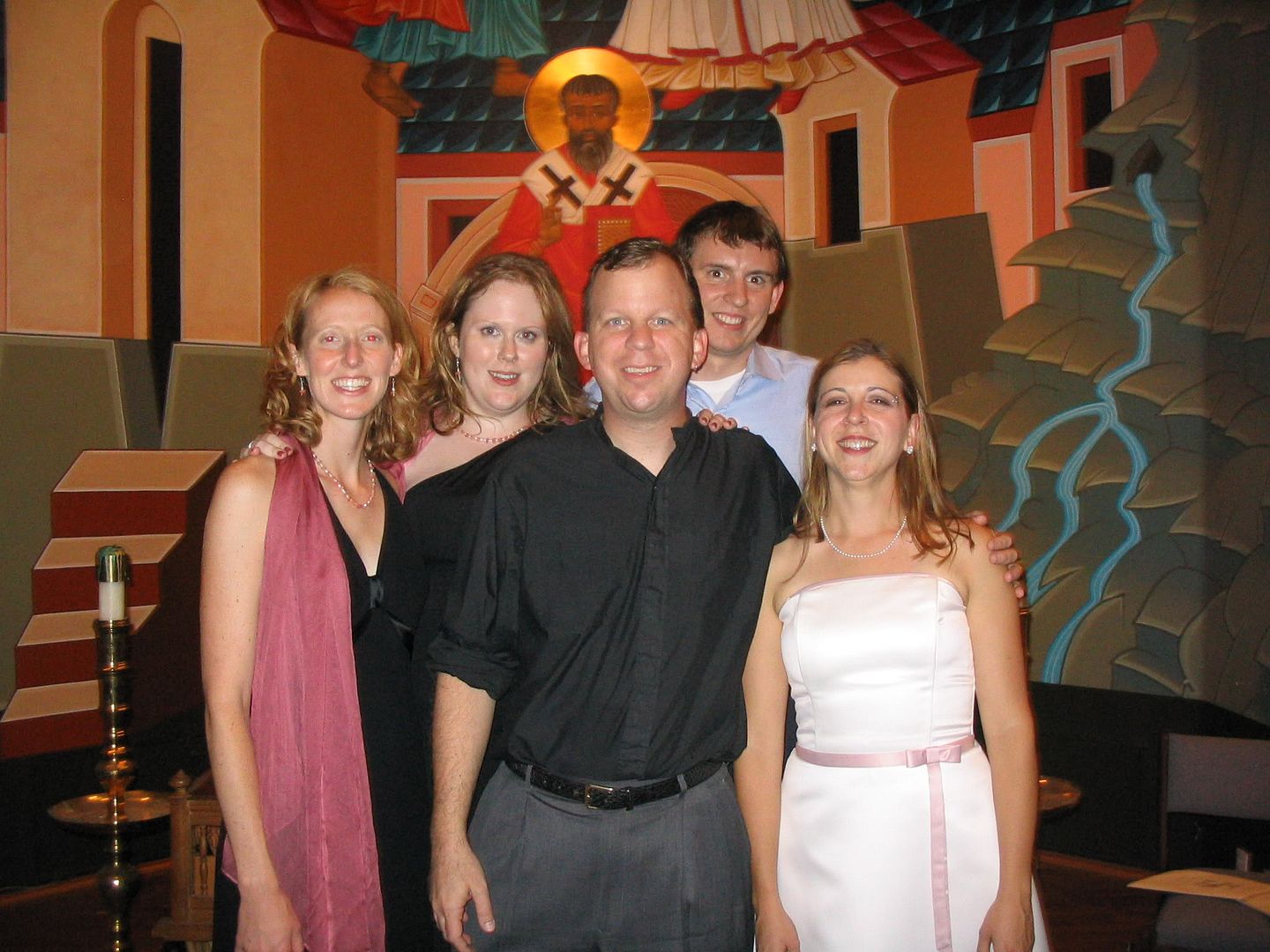 Here's the ECM alum group. Left to right, it's Christine, Sarah, me, Noah and Amber. We took this at the reception, which was just a great party. The DJ pretty much played nothing but mixes of 80s music. If you know me, you know I'm not much of a dancer, but I probably danced more at that reception than at any time in my life. It was too much fun. An ECM wedding tradition was officially established when a friend of Amber and Colin's blessed the keg using the "Beer Prayer" that we used to bless kegs for Sigma Nu at WILD at Wash. U. (at Noah and Sara's wedding, all the ECMers there gathered around to bless the keg). Noah and Christine and others gave wonderful toasts. It was just perfect.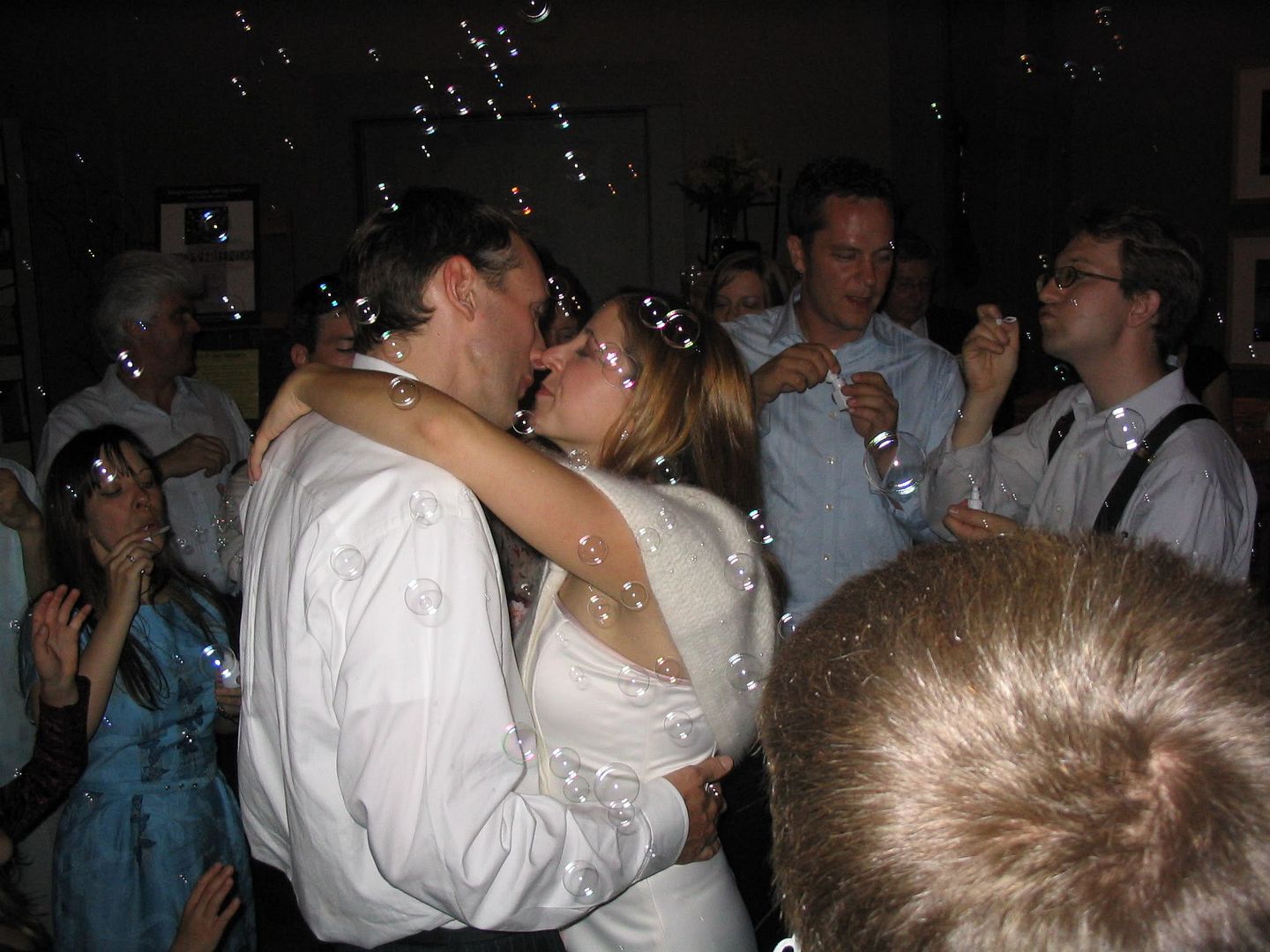 Finally, here they are with their last dance before they took off -- with all of us blowing bubbles on them.
One of the best parts of my job is that I get to keep track of and stay in relationship with all these wonderful people as they go through life. There is nothing like the honor of being included in celebrations like this. Nothing like it at all.
|
Mike
at
10/18/2005 02:57:00 PM